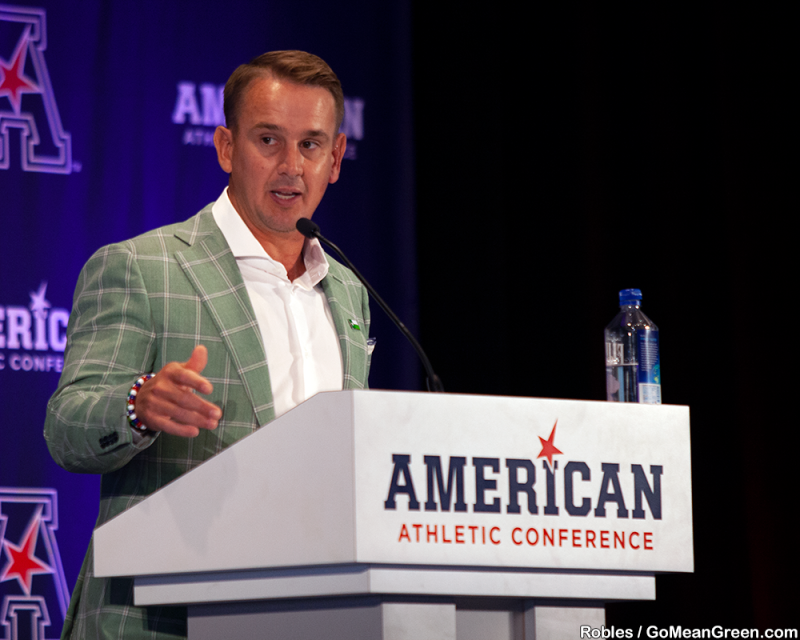 The American Athletic Conference (The American) held its 2023 Football Media Days on Monday and Tuesday, July 24-25 at Live! By Loews Arlington Texas. The in-person event served as a celebration of The American's 10th anniversary and will be the first formal event under the league's new 14-team configuration.  The Mean Green Report was there on both days and here is a summary of our observations of what we thought was a successful event.
Having attended many of these events in the past, I was impressed with the setting at Live! By Loews.  It is nestled smack dab in the middle of AT&T Stadium, Globe Life Field and the Esports Stadium and Expo Center.  We had a fun lunch at the Troy sport bar named after the Cowboys star QB and there were many other restaurants and bars to choose from.  The facilities inside the hotel were top notch and the American support staff was extremely accommodating and supportive throughout the event. 
There was a lot of interesting imagery to take in as a first-time participant.  All the past UNT media kickoff events whether it be C-USA or heck even the Sun Belt were fun and interesting in their own way but this one just stepped it up a notch.  Live By Loews is a nice facility that has a backdrop of Jerry World through its glass walls that is hard to ignore.   The event itself had a more legitimate air about it, whether it was the sport coats and neat appearance of the AAC staff, or the updated media guides available in plentiful supply.  There was just a positive and service-oriented mood that was flowing on both days that made you glad to be there.
In terms of visuals, it was a delight.  Seeing SMU players in their jerseys and coaches wandering around was cool. Running into new FAU leader Tom Herman in the bathroom adjusting his tie.  Seeing the excitement of the team representatives as they made their way through the busy radio and podcast sections doing their interviews and posing for pictures.  Hearing media and sportswriters discuss who was going to have a good season and who was their dark horse team to surprise.   
Commissioner Mike Aresco just continues to impress me as a thoughtful and enthusiastic leader who is not just going through the motions.  Compare that to when we joined the C-USA back in 2013 and it felt like Britton Banowsky was going through the motions (in hindsight he was as he would exit stage left just two years after in 2015). 
Aresco's main soliloquy was in three parts: 
1 – The American had defied the odds and is now "every bit a power conference" and that the P5-G5 perceived separation from the media and the power conferences is "manufactured."  He spent a good amount of time on Tulane and their remarkable comeback bowl win against USC as a recent example of the success the conference is capable of on a national stage.
2- The six new teams entering the conference are all excellent additions who will bring a lot of success to the conference and the remaining teams are excellent as well.  The 14-team format and six new teams will allow for some fun rivalries to develop as well as opportunities to win games against the upper echelon of programs.
3 – The NIL and Portal, while in some ways is problematic, it just needs to be adjusted to better serve the needs of the student athletes but also promote fair competition amongst all the NCAA teams.
My view is that Aresco is a good counter puncher and his desire to do away with the labels that have haunted non flagship or blue blood programs is right on target.  And there is a lot of truth in that.  The Power 5 versus Group of Five was a label that was perpetuated by the media.  And it is not accurate anymore as the expansion to the 12-team playoff will provide a lot more opportunity for programs in the future.
Now to close, I would like to give my impressions of each of the 14 American head football coaches and their respective speeches and responses to media Q&A.
Brian Newberry, Navy:  Taller, quiet guy that seemed sincere and proud of his team.  He explained that NIL and portal were not really factors for them and somewhat of an advantage in that they did not have to deal with many of those battles.  The type of players they were recruiting were looking at the bigger picture in terms of a career and commitment well after their football days were behind them.   He has some work to do revamping his roster so it will be interesting to see how he plans out there.
Stan Drayton, Temple:  Definitely one of the more personable coaches of the day and he was very engaging and interacting with the media.  He lightened things up after a dry opening from the Navy HC.  He has only been there a year so still trying to get more of his type of players in the program and having success.  Temple is one of the few AAC teams who were able to win the conference in the last decade so he should have a decent chance to win some games there.
Biff Poggi, Charlotte:  Very interesting guy, big and broad shouldered, you could tell he was staying in his shell and being more composed in his first year.  I am betting he may be one of the most entertaining coaches in the AAC as time goes on.  He was an exceptionally good salesperson in Charlotte, the city in terms of it being home to the US banking community and that their NIL will be able to take advantage of that in time.  He did not get a ton of questions and slammed his hand down on the podium at the end jokingly saying after they win some games this year there will be more interest. 
Ryan Silverfield, Memphis:  Liked him, he was one of the better speakers overall.  Interestingly he along with a few other AAC coaches never played college football himself and came up at Memphis under Mike Norvell.    It sounded like they lost a few to the portal and NIL but also added a lot of fresh faces and he seemed optimistic about the team and of what they were capable.
Tom Herman, Florida Atlantic:  One of the highlights of the event for me, Herman is not afraid to put himself out there and is just always an entertaining speaker.  He said he is having fun again at FAU and that he locked up the locker room for a few days to wash away the 5-7 record and put last season's dramatic drop from grace behind him.    One writer made the mistake of asking him how it felt to be back in Texas again, to which Herman replied that it was just another state, town etc.  He then joked about trying to get Commissioner Aresco to move it to Miami or better yet Boca Raton next year.  Herman did reveal his transfer QB Casey Thompson had shoulder surgery but expected him to be in a battle for the QB spot with two others.  Herman said he totally supported the NIL and players making money but felt it should be based on their own accomplishments and not on phony jobs and artificial tasks.
Trent Dilfer, UAB:  I thought Dilfer was one of the most entertaining coaches out there today.  As a reminder, this guy won a Superbowl for the Ravens as QB worked for ESPN as a broadcaster and has had a truly remarkable career.   A writer asked him if he worried about what other college coaches thought about him not following the traditional path to becoming a head coach in college.  He said he did not care about what any other coach or administrator thought about him.  He only cared about his players and that he gave them everything he had.  The guy obviously does not need the money and he said it was his wife that pushed him out of high school coach because he needed a new mountain to climb up.  I could not help but think of other players with such notoriety as Clyde Drexler who crashed and burned but also guys like Jim Harbaugh who were able to make it work.  Dilfer will be a lot of fun to watch regardless of what happens because he is not trying to move up the coaching food chain like the typical college coach is.
Mike Houston, East Carolina:  Seemed like a good fit for East Carolina and you could not help but be impressed with their record last year (8-5) and defeating Coastal Carolina in a bowl.  Houston is the opposite of Dilfer in he came up the ranks from high school, small college and then FCS powerhouse James Madison where he notched two consecutive 14-win seasons. 
Jeff Traylor, UTSA:  Traylor sported the Roadrunner Hat with the Armani suit and was his usual charming East Texas self.   He heaped a ton of praise on Tulane coach Willie Fritz as well as the other coaches in the league.  He spoke a lot about talented QB Frank Harris and how lucky he (Traylor) was to have him.   Despite being one of the favorites in the AAC, Traylor reminded the crowd that UTSA had won a lot of close games in the past few seasons.    
Alex Golesh, South Florida:  Very young.  Pretty well spoken and focused a lot on changing the culture at USF.  Someone told me he was smoking a cigar after the presentations, but that he was not confirmed.  I will say this, USF was at one time a particularly good football program and they had a ton of talent down there to build with so he could surprise us all.
Willie Fritz, Tulane:  Seemed to garner the most respect from the other coaches.  Softer spoken than I remembered.  His voice has a whispery quality to it.   Just a damn winner and you can tell he is building something extremely special down there.  He did point out that last year the ball bounced their way a lot (12-2) and a similar team the year before lost ten games.  Fritz said last year on media day they were picked to be 7th so that may bode well for UNT.
Kevin Wilson, Tulsa:  Pretty straightforward and to the point guy.  Seems like more of a technician.  Said NIL had helped and hurt them which I thought was honest.  He did give big time praise to QB Braylon Braxton from Frisco who he said could be a talented player in any conference.
Mike Bloomgren, Rice:  Seemed like the typically smart Rice type of personality.  Sounds like he landed a big time QB with JT Daniels who could surprise the league.
Eric Morris, North Texas:  Morris was great, and I love how he can make fun of himself and how it disarms his audience.  He had by far the most questions from the media and there were more, but the AAC staff had to keep the agenda moving.  They spoke of his relationship with Mike Leach, and while he did not name Patrick Mahomes, he did say that he had developed some exceptionally good QB's in his time in coaching.   He talked about how he and his staff were trying to get into the Denton community and build relationships.  He heaped praise on the two UNT player reps in attendance Mazin Richards and Jet Duncan.  He spun the NIL and portal in a positive way, talking about how Richards developed later and was able to transfer to UNT and become a first team all-conference player.   He also mentioned how he had a good handle on the make-up of the UNT team and roster as he was friends with Seth Littrell who was his coach at Texas Tech.
Rhett Lashlee, SMU:   So, as you know, I am a UNT fan, and I do not care a lot about SMU.  With that stated it is hard not to be impressed with Coach Lashley.   He looks and dresses the part, and he is well spoken.  He conveys the strengths of SMU very well, stating that SMU is in one of the top business cities in the country and that once you graduate with a degree from there you are set for life.  He talked about how SMU has been building up to this point and he was excited about all the additions the coaching staff had made through high school and the portal / NIL.  There was an air of confidence around him not just about the upcoming season but the future of SMU.  He did not take the bait on a question pertaining to SMU being an addition to the PAC 10, but he also made it truly clear that NIL was opening a tremendous opportunity for them to get the program back to the days of The Pony Express.
Editor's note:
Last note and I will let you go.  I am pleased to announce that GoMeanGreen.com is working on a new premium service that we will be rolling out soon.  Some of you may recall a project we did in the past called "The Eagle Eye" and it will be like that but with a new name.   I will provide more details on this project later but suffice it to say that the GoMeanGreen.com you know, and love will not be changing, and we are just adding some additional premium content and features for those who are interested in that sort of stuff.    
I want to be clear that has not been and there will not be any service like this out there covering UNT sports.  I would not be doing it unless I believed we could be the best.  There have been some news items and things in the past we did not feel comfortable talking in public and this service will give us the ability to do that in a more secure way.  The amount of recruiting coverage and inside information we will be providing will be unparalleled.  We are excited about this project and will be sharing more information on it very soon.  Until then, and as always –
Go Mean Green! 
Harry Miers '90
1

2