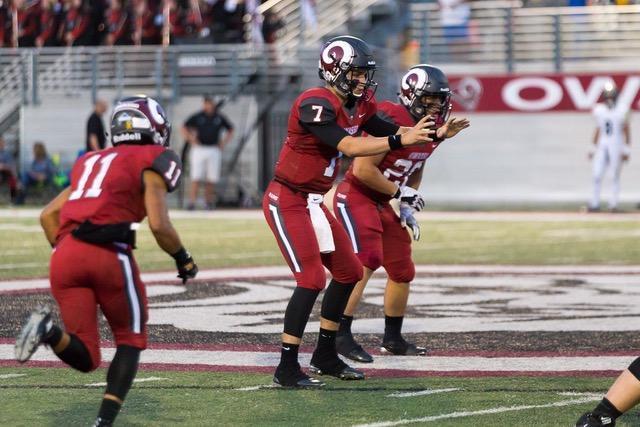 North Texas Head Coach Seth Littrell and his staff received some good news this morning, landing  a commitment from top quarterback prospect Will Kuehne (6-1, 190) out of Owasso High School in Oklahoma.  Kuehne led the Rams to a 6A-I State Championship in 2017 defeating Tulsa Union by a score of 21-14.  In the championship run season he threw for 2,788 yards, 24 touchdowns and only 3 interceptions. 
Kuehne is rated as a 3-star pro-style QB prospect, but don't let the description fool you.  He rushed for 289 yards as a junior and had 10 scores.  His running ability will be a feature of the Owasso offense in 2018.  He is also an outstanding student, maintaining a 4.0 GPA.
Owasso Head Coach Bill Blankenship had high praise for Kuehne.  "He's a great player.  He's not flashy, but gets the job done.  He's everything a coach would want to have.  We built our offense around him, and he showed great leadership both on and off the field." 
When asked to describe Kuehne as a player, Blankenship compared him to Justin Fuente who played at Tulsa Union and was the Oklahoma Player of the Year in 1994.  "He throws the ball around like Justin could, but the difference is Justin couldn't run, he [Kuehne] has good wheels.  He is a weapon to run the ball.  He ran a 10.77 100-meters and helped our track team qualify for state."    
Kuehne had multiple offers including Maryland, Arkansas State as well as many Ivy league schools. He is the highest ranked QB prospect that North Texas has had committed since 2008.  "If Will had played in the DFW metroplex or Houston, he would have more offers than he has now", Blankenship stated.  "Seth [Littrell] gets it in terms of what you have to do to recruit successfully in Oklahoma."  "There are about 40-60 DI guys here every year.  It's not as easy as Dallas or Houston, you have to drive a bit and find them."
And yes, the bloodlines are strong.  Kuehne is the son of Trip Kuehne who was a 3-time All American golfer at Oklahoma State and took Tiger Woods to the wire in the 1994 U.S. Amateur finals.  His mom, Dusti Stuart, was a scholarship basketball player at OSU.  His grandfather Ernie Kuehne ('66) was a scholarship track athlete at North Texas and has been a major donor to his alma mater.  Ernie was inducted into the UNT Athletic Hall of Fame class of 2013.
Kuehne began his career at Liberty Christian and then transferred to Owasso prior to his junior year.  That change allowed Kuehne to play at a higher level of competition but may have put him off the radar of some bigger programs.   
The combination of playing under Seth Littrell and Graham Harrell was a key factor for Kuehne.  Littrell's current starting QB Mason Fine (Locust Grove, OK) will return in 2018 as a junior after a record setting season in 2017.   Fine passed for 3,749 yards and 28 touchdowns and led the Mean Green to a C-USA Western Division Championship and New Orleans Bowl appearance.
Kuehne could be the next guy in line.  He will enroll early in January 2019 and participate in Spring drills.  Ideally, he could take a redshirt year and learn under Fine's tutelage.  As far as Owasso's prospect in 2018, it could be a challenging year as they lost their top 10 offensive linemen and top receiver and face a murderer's row early schedule. 
According to Coach Blankenship, if anyone is up to the challenge it may be Will Kuehne.  "If you think about what he accomplished beating a great team like Jenks, in his very first game for us, it tells you he is a pretty special player."
Edited by Harry