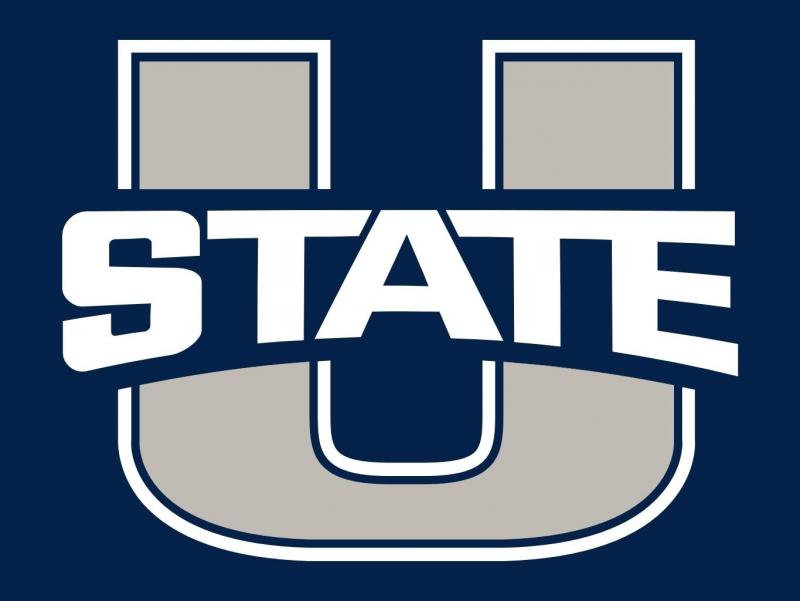 1).  When did you start supporting Utah State as a fan? 
My folks met at Logan HS.  I was raised on Aggie songs crossing the Nevada desert when we were kids, and tales of Aggie FB [my dad played there right after WWII, and his granddad was the first music prof at USU].
2).  Where does Utah State sit in the hierarchy of the other major Utah colleges?  Who are your main rivals in terms of bigger and smaller schools?  Who is your arch rival?
The parochial stench in Provo is our biggest rival.  The pukes in Salt Lake won't play us any more [after 100+ years of playing].
3).  Utah State and North Texas have a past both in the Big West and the Sun Belt conference.  How is Utah State's current conference affiliation working out in the Mountain West?  Do you see the Mountain West as a long term conference home or are you looking for potential realignment opportunities?
The MWC is the ideal conference with the regional rivalries.  It was a struggle in the BWC days with the WAC poaching programs.  Alas, the USU/UNT series was only a marriage of convenience.  I like where you folks ended up landing as well.
4). What region does Utah State typically recruit players from?
We recruit locally [Wyo/Ariz/Colo/Utah/Ida], as well as Pacific NW, California, Texas and Florida.  We try to keep about 40%+/- local.
5).  How is the reception of the fanbase on Gary Anderson returning as head coach?
His biannual breakdowns are concerning, but his success in raising USU back to '60s era dominance in the region was a huge, huge thing for us.  The "Raiders of the Rockies" are back!
7).  Utah State had a fantastic season, ranked in the top 25 and only losing to Boise and Michigan State.  Where does this season rank in terms of your time in following the program?
Maybe 3rd or 4th ['72, '60-62 teams were better].
8).  How would you describe the Aggie squad this season for those who have not seen them play?  They seem to have good size on the lines and talent at running back. 
The two-headed monster at RB ( Darwin Thompson - 132 carries for 951 yards and Gerold Bright - 125 carries for 785 yards) has been a pleasant surprise.  We were worried when we'd be relying on a JC (Thompson transferred from Northeastern Oklahoma) so much.  The new OL coach [poached by Tech] made all the difference.  The kids weren't much different in talent, size, etc.
9).  Please tell us more about your impressive QB Jordan Love.
He took over about 1/2 way through last season as a redshirt frosh and led the Ags to a bowl after a miserable 3-9 season the year before.  He showed up 6'2 185 and is now 6'4 225.  When he's right, I've only seen 4ish QBs better since I started watching in person in the '60s.
10).  I believe you had a special teams returner who is garnering All American status.  What can you tell us about him.
[Savon] Scarver ran one back against the NewMags in last year's bowl game and ran back two this season.  He's some kinda fast.  Good blocking this season.
11).    Is USU's offense run first than pass?  How would you describe their offensive identity.   Same for defense.
Pass to set up run [contrary to my own preference].  Defense is pressure, pressure, pressure.  Lots of guys flying around.  With all the risk taking, people occasionally pop one.  It's hard leaving those poor DBs on those islands.
12).   How does the average USU fan perceive North Texas heading into this bowl?
Most prolly don't remember the many years of conference affiliation.  The hard-core guys sure do.  And your somewhat gaudy record will catch people's attention.
13).  USU is being listed as an 8-9 point favorite in this game.  How do you see it playing out?
I have a numbers analysis I do.  I see this as a USU win by 5, 35-30.  Lots of offense by two really nice QBs.  If I were a bettor, I'd be taking UNT to cover and the over.
14).  What is your greatest USU football memory in your years of following the program or top 3?
Beating Southern Miss in 1972 on a blocked punt with no time left in a sleet storm in Logan:  Ray Guy was their punter.  We had a guy die of a heart attack right after, he got so excited.  What a way to go!
Beating Utah in Logan by about 30 in the same year, where our QB Tony Adams passed for 561, setting an NCAA record.
Beating Wisconsin at Wisconsin in 1968.
Edited by Harry