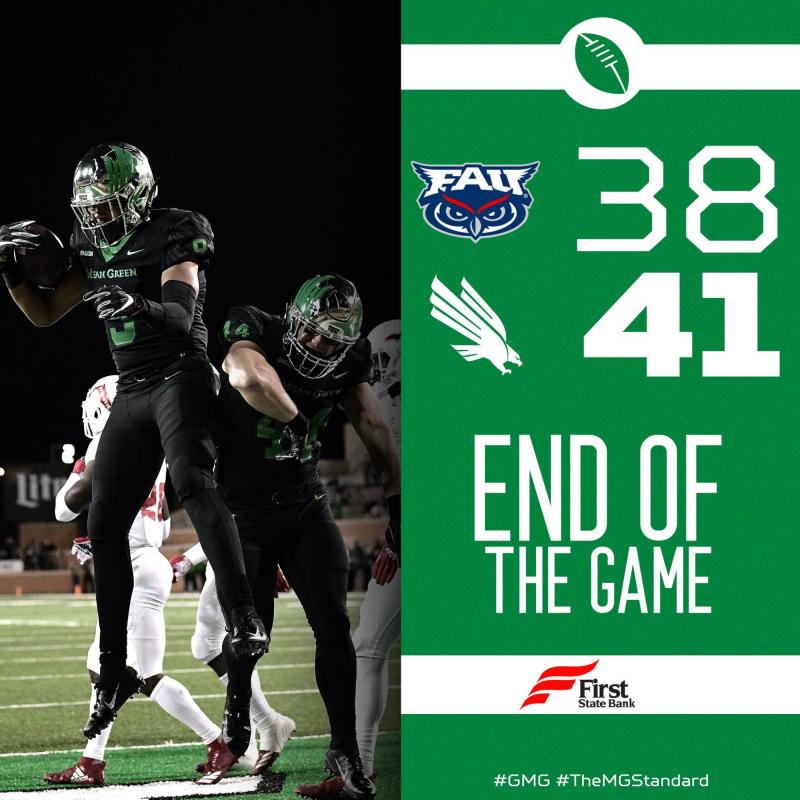 DENTON - For the fourth time this year and second time in as many weeks, North Texas saw a double-digit first-half lead evaporate. And its own comeback attempt was dealt a massive blow when quarterback Mason Fine - the leading passer in the conference and among the top 10 QBs in the nation - absorbed a savage hit, suffered a deep gash to his left wrist and left the game with 10:48 to play in the third quarter.
And the Mean Green rallied and won. And exorcised some demons in the process.
Back-up quarterback Quinn Shanbour stepped in to guide North Texas to a pair of touchdowns against Florida Atlantic - both on quarterback runs - before Fine returned, the Mean Green defense came up with stops in the fourth quarter, Mean Green running back DeAndre Torrey scored on a 92-yard run with 4:06 to play, and Khairi Muhammad extinguished FAU's final comeback attempt with an interception with 1:53 to play for a 41-38 win in Thursday's home finale at Apogee Stadium.
"I'm extremely proud of our kids," said North Texas coach Seth Littrell, whose team moves to 8-3 on the year and 4-3 in Conference USA. "Our kids were relentless, and it was a total team win. We knew it was a game we had to keep fighting for each other. We overcame adversity a lot better this week."
North Texas, which was torched by FAU twice a year ago, didn't really stop Owls running back Devin Singletary, the leading rusher in Conference USA, but it contained him. Singletary, who averaged 6.7 yards per carry in two games against North Texas a year ago, averaged 4 yards a carry Thursday, finishing with 91 yards and a pair of touchdowns. His backfield mate, Kerrith Whyte, Jr., rushed for 76 yards.
Torrey out-gained both of them. He had a career-best 184 yards rushing, added 38 yards receiving and scored a rushing TD and a receiving TD.
"That's impressive," Littrell said. "Their guys are unbelievable. DeAndre knew we were going to lean on him, and he made a huge play. Our o-line did a great job tonight, too."
Florida Atlantic (5-6, 3-4 in C-USA) won the opening coin toss but instead of deferring their choice to the second half - the popular choice this year - it took the ball, looking to unleash its rapid-fire offense and smash the Mean Green in the mouth as it did in both meetings a year ago.
This year, however, the game's start couldn't have been in greater contrast to either of the 2017 games. This year it was North Texas coming out flying, making stops, making big plays, and building an early lead - something the Mean Green never held against the Owls last year.
On the opening possession, North Texas got a diving open-field tackle by Nate Brooks to help force a three-and-out - something the Mean Green did not cause in the regular-season meeting last year. The Owls tried to seize the momentum on their next drive by going for it on fourth and four near midfield, but a pass breakup by Kemon Hall forced a turnover on downs. FAU's third possession ended in another three-and-out.
The North Texas offense, meanwhile, rolled up 218 yards of offense in the first quarter. Fine dissected the Owls, completing 12 of 14 for 210 yards in the opening period to lead the Mean Green on a trio of scoring drives. Wide receiver Jalen Guyton had four catches for 62 yards and a touchdown to spark the attack, Torrey scored his 15th touchdown of the season on a 13-yard toss from Fine, Cole Hedlund hit a 38-yard field goal, and North Texas was in command at 17-0.
And that momentum unraveled in the blink of an eye.
With the Mean Green defense focused on stopping Singletary, the Owls hit a 56-yard touchdown pass. FAU put together a 75-yard scoring drive capped by Singletary, then got an interception from Rashad Smith, who stretched to tip and pull down a pass bound for Rico Bussey, Jr., streaking through the secondary. One play later, Whyte burst 29 yards for a touchdown, and FAU was up 21-20.
"You're going to have adversity," Fine said. "FAU's not going to lie down."
But North Texas stopped the bleeding, got a couple of stops to slow the Owl onslaught, and got to halftime only down one.
"We have a history with this team that's not been good," Littrell said. "But we were poised in the locker room at halftime. We knew the type of battle we were in for. Before the game I told the team we'd find a way to win. They believed and trusted in that, and they found a way to win."
The Mean Green regrouped in the third quarter. Down 24-20, Torrey ripped off a 46-yard run to set up UNT in scoring position, but on third down from the FAU 15, Fine went down, his wrist gashed by the impact of two FAU defenders.
"The blood was gushing," Fine said. "But the doctor gave me a few stitches and I was good to go."
"It didn't look too good," Littrell said. "But I know Mason well enough to know that if it's not broken, he'll be back."
But for the moment, Fine was in being escorted to the locker room and Shanbour, the senior and career backup, came in.
"There's not much time in a situation like that," Shanbour said. "You want your other quarterbacks to be ready. I just tried to do my job."
He did the job brilliantly. With the possession kept alive by a roughing the passer penalty, Shanbour finished it with a 4-yard run for the first rushing touchdown of his career. And after Nate Brooks snared his fifth interception of the season on FAU's next possession, Shanbour again drove the Mean Green to the end zone, getting key blocks from Kelvin Smith and Manase Mose on an 18-yard keeper for the second rushing touchdown of his career and a 34-24 UNT lead.
"This was my last time at Apogee Stadium," Shanbour said. "I lost a loved one this week, and it was tough. But these guys are loved ones, too."
"This was his last time out on that field," Littrell said. "I'm so excited for Quinn. He's a great leader, and he does not get enough credit for all he's done. He was phenomenal."
Back came the Owls. They drew within 34-31 and had a chance to tie with a 40-yard field goal, but it bounced off the right upright to preserve the UNT lead. After another stop by the UNT defense, Torrey's 92-yard explosion appeared to seal with win with 4:06 to play. However, FAU scored just 38 seconds later on a 55-yard pass, and when North Texas couldn't move on its next possession, the Owls got the ball back at their own 40 with 2:30 remaining.
But the North Texas defense stepped up again. Defensive lineman Roderick Young threw FAU quarterback Chris Robison for a 5-yard loss, and on third and 15, Muhammad, who had a season-high nine tackles, took the ball away from an FAU receiver for his fourth pick of the year, sealing the victory.
"We came together and won," Brooks said.
"That's football," Littrell said. "They're all a challenge."
Quick Hits
After not forcing any three-and-outs from FAU in the first meeting a year ago and only two in the second, North Texas forced four three-and-outs from FAU in the first half.
Senior defensive back Nate Brooks (Whitehouse, Texas) had his team-leading fifth interception of the year. That's a single-season best for Brooks, and gives him nine for his career. He matched his season high with eight tackles.
Senior quarterback Quinn Shanbour (Oklahoma City) had the first two rushing touchdowns of his career, scoring twice in the third quarter after Mason Fine was forced out of the game temporarily with an arm injury.
Junior quarterback Mason Fine (Peggs, Okla.) became UNT's all-time leader in career passing yards a week ago. Thursday, he became UNT's leader in career yards of total offense with 9,172, bumping Mitch Maher (1991-94) from the top spot.
This is the third time in program history that North Texas has won eight or more games in back-to-back seasons: the first was under head coach Jack Sisco in 1931-32, the second under Darrell Dickey in 2002-03. North Texas has never had back-to-back season with nine or more wins, but can accomplish that feat with one more victory this year.
Sophomore running back DeAndre Torrey (Gautier, Miss.) has 16 touchdowns this year, tying for fourth on UNT's list of single-season touchdowns (rushing, receiving and returns) with Michael Jones (1977), Lance Dunbar (2010) and Jeffery Wilson (2017). He has 13 rushing TDs this season, surpassing Wilson for fifth most in a single-season rushing.
Torrey's 92-yard scoring run was the longest run of the season for North Texas and the fourth longest in school history.
Junior wide receiver Rico Bussey, Jr., (Lawton, Okla.) moved to eighth among UNT's all-time single-season receiving leaders. He has 990 yards this year.
Senior linebacker Brandon Garner (Mansfield, Texas) had 2.5 tackles for loss to lift his career total to 32.5 and pass Adrian Awasom (2001-04) for fourth place all-time at UNT. Garner has 15 tackles for loss this year, passing Awasom for sixth on the UNT single-season list.
Redshirt defensive back Taylor Robinson (Keller) had 10 tackles, a career high.
Thursday's crowd gives North Texas an average attendance this year of 23,355, breaking last year's record of 22,362.
Read more:  https://meangreensports.com/news/2018/11/16/football-mean-green-top-fau-in-thriller-41-38.aspx