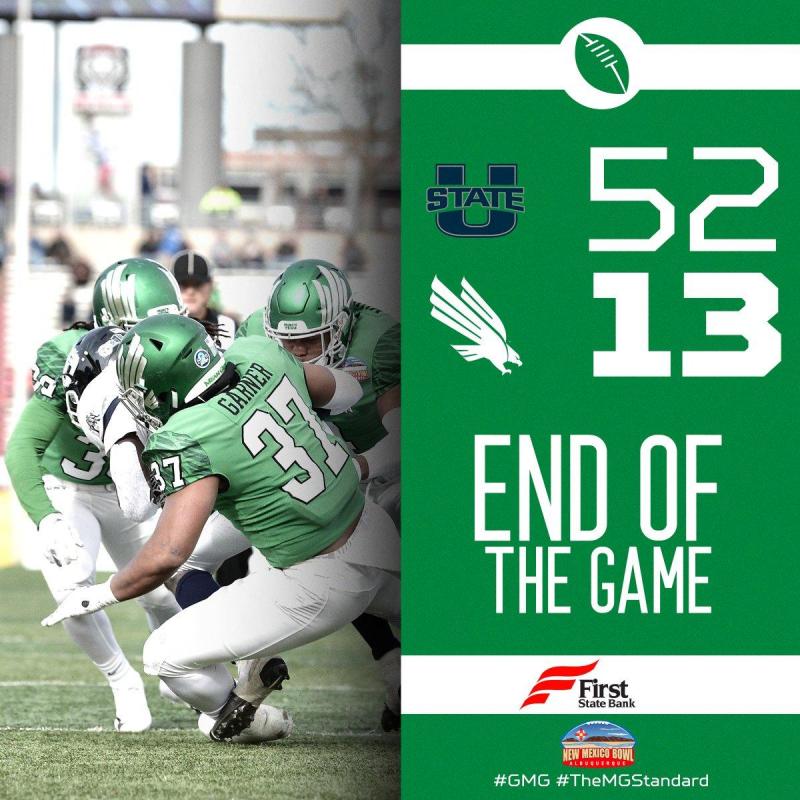 ALBUQUERQUE, N.M. - Utah State was exactly as advertised.
The Aggies, ranked No. 23 in the nation, used a balanced, up-tempo offense and a ball-hawking defense to overwhelm North Texas in Saturday's New Mexico Bowl, 52-13.
In a game that quickly turned into a shoot-out, North Texas was without its biggest weapons. Quarterback Mason Fine, UNT's all-time leading passer and two-time Conference USA Offensive Player of the Year, sustained a hamstring injury in the first quarter, returned later in the first half but was left virtually immobile and was forced out of the game before halftime. The Mean Green's top receiver, Rico Bussey, Jr., was injured in the regular-season finale and was unavailable Saturday, and leading rusher DeAndre Torrey left the game with a leg injury in the third quarter.
The North Texas defense, meanwhile, held Utah State quarterback Jordan Love under his normal completion percentage, came up with a turnover against an Aggie attack that does not turn the ball over and had a sack against the best pass-protection in the nation. But Utah State hit big plays again and again, on the ground and through the air, scoring on plays of 72, 26, 37 and 67 yards in the opening half to take control.
"The reason this hurts so much is the expectations have changed at North Texas," Mean Green coach Seth Littrell said. "We expect to be in games and compete and win championships.
"We just made way too many mistakes."
North Texas finishes the year 9-4, posting back-to-back nine-win seasons for the first time since 1977-78.
"I can't say enough about this group," Littrell said. "I love them. I'm proud of these seniors, and they'll be a part of my family for the rest of their lives."
The Mean Green kept pace with Utah State (11-2) through most of the first quarter. North Texas trailed 7-0 when it lost Fine to an injury suffered as he scrambled for yards. Fine, limping noticeably, returned to lead a scoring drive capped by a 2-yard DeAndre Torrey touchdown run to tie the game at 7-7, and defensive back Nate Brooks thwarted an Aggie scoring threat with his sixth interception of the year, a pick of a Love fade pass into the corner of the UNT end zone, to keep the game close.
But the Aggies relentless attack kept piling up yards. By the 12:08 mark of the second quarter, Utah State had more than 100 yards passing and rushing and built a 21-7 lead, the first time North Texas has trailed this year by more than one score.
"We came out hoping to execute the way we're supposed to," UNT senior defensive back Kemon Hall said. "But they just out-executed us."
North Texas narrowly avoided turnovers on bad shotgun snaps, the second of which aggravated Fine's injury sending him to the bench and forcing UNT to punt from its own end zone. Utah State quickly took advantage of good field position and struck again, this time on a screen pass turned into a 37-yard touchdown and a 28-7 lead.
The Aggie lead grew to 38-7 by halftime, matching the most points North Texas allowed in a game this year.
In Fine's absence, North Texas used three quarterbacks, redshirt senior Quinn Shanbour and true freshmen Jason Bean and Kason Martin. Martin had the most success, completing 7 of 12 for 110 yards and opening the second half with the fastest scoring drive in New Mexico Bowl history when he hit Jalen Guyton for a 75-yard touchdown.
It was Martin's first career TD throw, and the North Texas defense followed with stops on consecutive Utah State drives to give rise to thoughts of a comeback.
But the rally hopes didn't survive the third quarter. Torrey and Martin limped off with a leg injuries, the Aggies came up their fourth interception of the game, and Utah State grabbed another big chunk of yards on a 38-yard pass to set up a 3-yard touchdown run and a 45-13 lead.
Quick Hits
In his final game at UNT, senior linebacker E.J. Ejiya (Blaine, Minn.) had two tackles for loss, giving him 40.5 for his career, the second most in program history. Ejiya passed Brad Kassell (1998-2001). The all-time lead remains in the hands of Brandon Kennedy (2000-03) with 61.0.
Ejiya also moved into the top position for single-season tackles for loss with 25, exceeding Kennedy's 2002 total of 24.0.
The Mean Green were without junior wide receiver Rico Bussey, Jr., UNT's leading receiver with 1,017 yards and 12 touchdowns, out with a hamstring injury suffered in the final regular-season game against UTSA.
This was the first time North Texas has trailed a game at the end of the first quarter this season, and the first time the Mean Green trailed by more than one score. North Texas was the last team in the Football Bowl Subdivision to not trail by more than one score.
Senior defensive back Nate Brooks (Whitehouse, Texas) stopped a Utah State scoring threat with his sixth interception of the year. That ties Brooks for eighth for most interceptions in a season all-time at North Texas.
Redshirt sophomore running back Nic Smith (Arlington, Texas) had 48 yards rushing to top 1,000 for his career with 1,047.
Freshman quarterback Kason Martin (Manvel, Texas) threw the first touchdown pass of his collegiate career, a 75-yard strike to Jalen Guyton.
Freshman quarterback Jason Bean (Mansfield, Texas) made his collegiate debut Saturday.
North Texas has lost three bowl games in a row, the second three-game bowl skid in program history. The Mean Green lost consecutive bowl games in 1948, 1959 and 2001.
This is the most points North Texas allowed this season.
Utah State's 556 yards total offense are the most North Texas allowed this year.
This was the most points North Texas has allowed in a bowl game, surpassing the 50 surrendered a year ago to Troy in the R+L Carriers New Orleans Bowl
link:  https://meangreensports.com/news/2018/12/15/football-wounded-mean-green-fall-in-new-mexico-bowl.aspx