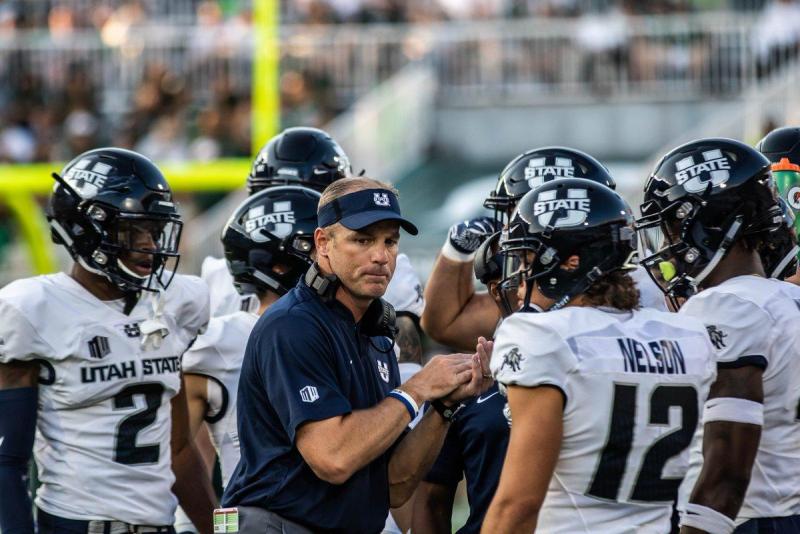 Thought our flatlander cousins would like to see a USU fan's [and one-time player's] thoughts on USU's personnel.  Offense first.  Defense if I can find time today [I'm driving down tomorrow].
OL
Tackles are RS Frosh Alf Edwards and Senior Sean Taylor on the left and right, respectively.  They're backed up by Seniors Roman Andrus and redshirting frosh Jacob South.  Edwards is the guy to watch.  Surprisingly good footwork on the weak/blind side for a guy this long and this young.  South still has his redshirt on and has a game to give.  He's the future of the line, along with Edwards.  They are all surprisingly [for us] good at getting downfield on running plays to take out DBs.  The grand total of 5 sacks over 12 games gives the best indicator of their success taking out the rush, including the blitzes and dogs.
Guards are Roman Andrus and Senior Rob Castaneda.  They're backed up by Senior Moroni Iniguez and Frosh Wyatt Bowles.  The following applies to all of the backups:  because of the 1st stringers sitting down in nearly all games for the last quarter and a half, the backups have all gotten a lot of good minutes in real gametime.  USU pulls a lot of guards, and requires a lot of them in holding blocks, as both the principal running backs are pretty good at waiting on the blocking before they commit.  The ypc numbers are pretty gaudy as a result, with lots of breakouts by both RBs for long runs and TDs.
Center is Senior Quin Ficklin, a yBu transfer who was a TE.  He hit the gym and developed into a very highly regarded center.  Calls a nice game.  Check out Hans Olsen's [Merlin's nephew] youtube vids breaking down USU's team, especially the line, in game situations.  He's backed up by Demo Ali'ifua.
TE
It starts with Dax Raymond, a RS Junior who's announced he's leaving school for the draft next Spring.  He is perhaps the best blocker on the team, is really quick, with really sticky hands, and he's a load to bring down.  He's backed up by Soph Terrell Carson, who's just as rangy, not quite as stout, but a pretty good blocker, and good hands.  He lacks the breakaway speed of Raymond.
WR
It starts with the guys on the outside, Seniors Ron Tarver and Jalen Green, who bring in 10.90 and 14.16 ypc, with 7 and 5 TDs.  Green's more a possession guy, with Tarver being the guy who wins jump balls on the sideline and in the endzone.  In the slot is a three-headed-monster with Seniors Aaren Vaughns, DJ Nelson, and Soph Jordan Nathan, who bring in 15.23, 9.33, and 10.96 ypc, with 3, 0, and 3 TDs.  Both DJ and Vaughns pass a little [DJ was an all-everything HS QB, who also holds for kicks].  Nathan runs back punts, quite successfully.  Backups on the outside are Soph Savion Scarver and Taylor Compton and Frosh Deven Thompkins, who bring in 18.38, 7.25, and 7.22 ypc, with 2, 0, and 0 TDs.  Scarver is the KO return guy.
RB
USU has a two-headed monster at RB who rarely are in the game together:  Darwin Thompson and Gerold Bright.  Thompson is not quite as fast as Bright.  Bright is not as stout as Thompson. They bring in 7.2 and 6.3 ypc, with 14 and 8 TDs.  Each is pretty good out of the backfield, 15.27 and 11.16 ypc, with 2 and 3 TDs.  Both are in the 5'8-5'9 200 lb range.  Thompson is a gym rat with astonishing measurables.
QB
6'4 225 Soph Jordan Love has been quite a find.  He's backed up by RS Frosh Henry Colombi.  They rush for 1.5 and 8.3 ypc, with 6 and 1 TDs.  They pass for 8.58 and 5.98 ypp, with 28 and 0 TDs, with 5 and 0 INTs, and suffering 5 and 0 sacks.
Only two teams have been able to defend USU consistently:  Wyoming and Colorado State, both road games.  Boise did a fair job on defense, enough to keep ahead of USU by 2 points in Boise until the last 5 seconds of the game.  But if you want to know how to defend USU, take a look at what our Front Range cousins did.