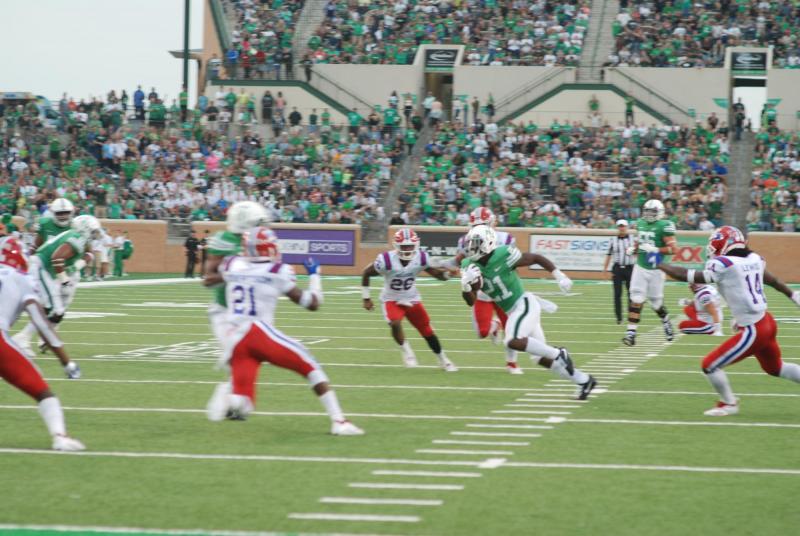 DENTON - In front of the largest home crowd in school history, North Texas suffered through a disastrous second quarter that wiped away a 21-6 lead and from which the Mean Green ultimately could not rally in a 29-27 loss to Louisiana Tech Saturday at Apogee Stadium.
UNT quarterback Mason Fine, battered, sacked five times and limping from a leg injury suffered in the third quarter, led the Mean Green on three second-half drives to attempt to bring North Texas back from a 29-21 deficit. The Mean Green scored late in the third quarter on a Fine pass to Rico Bussey Jr., but that was as far as UNT could come.
A two-point conversion attempt following the Bussey TD fell inches short. A 41-yard field goal attempt midway through the fourth quarter hit the left upright and bounced away. And a 46-yard field goal attempt with 41 seconds remaining was blocked.
"That was two teams fighting extremely hard," North Texas coach Seth Littrell said. "I'm not disappointed in how hard we fought or how hard we played. We just made too many mistakes to beat a good football team.
"We just made some mistakes that we haven't made this year."
Among those mistakes were two lost fumbles that led directly to seven points at the end of the first half and four penalties for 55 yards - not a lot of flags or yardage, but they kept alive a Louisiana Tech second-quarter drive that resulted in points.
After playing with a lead for four-straight games and through the first quarter Saturday, North Texas finally struggled in the second quarter, getting out-scored by the Bulldogs 20-0.
"That second quarter was as bad football as we've played in a while," Littrell said. "That's the first adversity we've faced."
"We gave them too much time to throw," North Texas linebacker E.J. Ejiya said. "Louisiana Tech is a great team. They came out ready to play, and their quarterback was a little too comfortable in the pocket."
It was the league opener for both teams, who were preseason picks to finish 1-2 in Conference USA's West Division. It was the first loss of the season for the Mean Green (4-1, 0-1) and the first home loss for North Texas since it lost in 2016 to Louisiana Tech (3-1, 1-0).
As they have all season, the Mean Green started fast, putting together three scoring drives in their first four possessions, all ending in touchdowns. North Texas ripped off yards in chunks. Screens to DeAndre Torrey, Nic Smith and Loren Easly netted 79 yards, Easly had runs of 23, 13 and 9 yards, and Fine threw a 36-yard scoring strike to Michael Lawrence. Easly followed his 177-yard performance a week ago with a 111-yard effort Saturday.
The Bulldogs responded with three scoring drives of their own, fueled a 48-yard run, a 43-yard pass, and a trio of conversions on third-and-long situations. Each time, however, the North Texas defense limited Louisiana Tech to field goals to build a 21-9 lead midway through the second quarter.
But for the first time this year, things began to unravel for North Texas. The Louisiana Tech pass rush began to take a toll on the Mean Green, holding them scoreless in the second quarter, the first period in which UNT has not scored this year.
The Bulldog offense finally broke through late in the half, reaching the end zone on a 8-yard touchdown pass 4:30 before halftime to cut the gap to 21-16, then tacked on a fourth field goal to draw within 21-19. The Bulldogs amassed 272 yards in the first half, the most the Mean Green has allowed before halftime all year.
North Texas then compounded its problems with two fumbles late in the half, the first setting up a Louisiana Tech punt that UNT fumbled and the Bulldogs recovered at the Mean Green 5-yard line with 38 seconds left in the half. On the next play, the Bulldogs got their second TD pass of the half. For the first time this season, North Texas found itself trailing, 26-21.
"Louisiana Tech is a great team," North Texas linebacker E.J. Ejiya said. "They came out ready to play. Their quarterback was a little too comfortable
Louisiana Tech added another field goal in the third quarter but that was all the offense the Mean Green defense allowed in the second half, giving the North Texas offense a chance for a comeback.
The rally started well. Easly had 9- and 11-yard runs sandwiched around a 23-yard pass to Bussey to move UNT deep into LA Tech territory. Faced with fourth-and-2 from the Louisiana Tech 7-yard line, Fine tossed a shovel pass Bussey, who swept around the left side for a touchdown. Bussey finished with nine catches for 112 yards and two touchdowns.
The two-point attempt, however, fell short when Jaelon Darden, on a reverse run-pass option, was tackled inside the 1-yard line, inches away from tying the game.
The Mean Green defense, which picked up the intensity in the second half, forced the Bulldogs to punt on their final possessions to give the offense a chance.
Twice more North Texas drove into scoring position, including on its final drive in the last two minutes of the game, but the two field goal attempts failed.
Quick Hits
It was throwback day at Apogee Stadium. In honor of Mean Joe Greene, North Texas wore 1967 uniforms and helmets, and the scoreboards referred to North Texas as NTSU. The day began with the unveiling of a statue of Mean Joe in front of gate 2 on the west side of Apogee Stadium, an event that drew multiple NFL hall-of-fame players, including Tony Dorsett, Charles Haley, Franco Harris and Earl Campbell.
As a part of the celebration, North Texas brought Greene's retired No. 75 out for one night. It was worn by junior defensive end LaDarius Hamilton (Corrigan, Texas)
Saturday's attendance was 30,105, topping the previous Apogee high set against SMU in the season opener.
Junior wide receiver Michael Lawrence (Sweetwater, Texas) had his first touchdown reception of the year, in the first quarter.
That TD toss put junior quarterback Mason Fine (Peggs, Okla.) over 7,000 passing yards for his career, the fourth player in UNT history to reach that mark.
Fine moved past North Texas All-Century QB Steve Ramsey (1967-69) for third place in career passing yards at North Texas. Fine has 7,248 yards.
Fine threw three touchdowns Saturday, giving him 50 for his career and tying him for third all-time at North Texas with Scott Hall (2000-04).
Fine has 21 career 200-yard passing games, surpassing Steve Ramsey (1967-69) and Derek Thompson (2009-13) for second most in program history.
Junior wide receiver Rico Bussey Jr. (Lawton, Okla.) has 15 career touchdown receptions to move into a tie for seventh all-time at North Texas with George Marshall (1999-02).
Redshirt senior linebacker E.J. Ejiya (Blaine, Minn.) upped his career total of tackles for loss to 25.5, passing Zach Orr (2010-13) for sixth most in school history.
Redshirt senior linebacker Brandon Garner (Mansfield, Texas) had half a tackle for loss Saturday, giving him 24.5 for his career, seventh most in school history.
Redshirt freshman defensive back Jordan Roberts (Ardmore, Okla.) had the first pass break-up of his career, tipping away a Louisiana Tech deep pass in the third quarter.
Senior kicker Cole Hedlund (Argyle, Texas) had his streak of consecutive field goals made snapped at 10 when a 42-yard attempt in the fourth quarter hit the upright.
Redshirt junior running back Loren Easly (Houston) had his second 100-yard rushing game of the season and second in as many weeks. Easly had 110 yards on 22 carries and a touchdown.
North Texas, which allowed just six sacks through the first four games, gave up a season-high five sacks Saturday.
North Texas' streak of scoring in consecutive quarters to start the season was halted at 17 when it did not score in the second quarter Saturday.
The North Texas defense had its streak of not allowing points on the opponent's opening possession snapped at four games. Louisiana Tech kicked a 28-yard field goal on its first drive.
What's Next
North Texas faces its first road C-USA game when it travels to El Paso to take on the UTEP Miners Saturday, October 6, at 6:30 p.m. central time. The game will be televised on beIN.