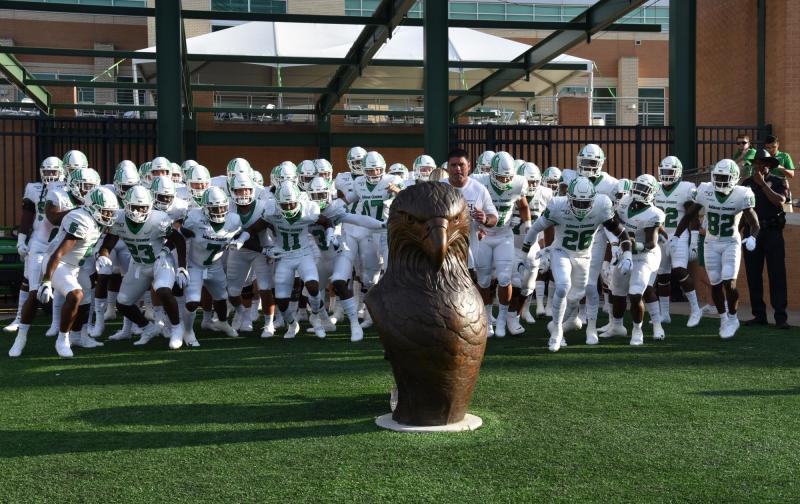 Fine's high-school teammate Jason Pirtle caught three touchdowns, the first three scores of his college career; Rico Bussey, Jr., had a career-high 156 receiving yards and a score; and Deion Hair-Griffin had a 58-yard kickoff return to set up the game's first score and a 96-yard return for a touchdown in the Mean Green's 51-31 season-opening victory over Abilene Christian at Apogee Stadium.
"I liked the way we came out on offense, defense and special teams," North Texas coach Seth Littrell said. "I liked the way we attacked early."
The North Texas defense threw a shutout until late in the second quarter, led by cornerback Nick Harvey with a 14 tackles and a pass rush that generated pressure on ACU quarterback Luke Anthony. The Mean Green allowed ACU just 49 yards offense in the first period, but the Wildcats built some momentum late in the second quarter that carried over to the second half.
"I like our athleticism and I'm excited about this team, but we've got to more focused for four quarters," he added.
The Mean Green offense, facing high expectations with a record-setting senior quarterback surrounded by an arsenal of weapons, scored 16 seconds into the 2019 season and roared to a 17-0 lead in the first period. It was 31-0 before ACU got on the scoreboard.
"We were able to create some different matchups with play-action," Littrell said. "We did a great job getting the offense rolling early. I loved the way we started fast.
Fine threw a pair of touchdown passes to an extremely open Pirtle in the first quarter and added a 49-yard, second-quarter touchdown to Bussey, who made the grab falling backwards into the end zone between two ACU defenders. Fine's final TD toss of the night went to Pirtle for a 31-0 lead.
The Mean Green ground game struggled early but picked up speed in the second half, led by DeAndre Torrey with 95 yards and Loren Easly with 51 yards and a touchdown.
Quick Hits
The 2019 season began with a 58-yard return of the opening kickoff by UNT redshirt junior Deion Hair-Griffin (Fort Worth).
On the first snap from scrimmage of the year, following Hair-Griffin's return, Mason Fine threw a 32-yard TD pass to redshirt junior tight end Jason Pirtle (Peggs, Oklahoma). The Fine-to-Pirtle connection was good for 59 touchdowns at Locust Grove High School, but this was their first score at North Texas. On the Mean Green's next possession, Pirtle grabbed his second collegiate TD from Fine, this one from 17 yards.
Hair-Griffin's 96-yard kickoff return in the second quarter was the Mean Green's longest since DeAndre Torrey's 96-yard return in last year's season opener.
In his final season's assault on what remains of the Mean Green team record book, senior quarterback Mason Fine (Peggs, Oklahoma) moved up in two categories:

Second in career touchdown passes with 68, passing Mitch Maher (1991-94) for second with 67 and one back of Steve Ramsey (1967-69) with 69.
Second in career touchdowns responsible for (passing and rushing) with 73, surpassing Scott Davis (1987-90) with 70 and Ramsey with 71.

Nick Harvey, the graduate-student defensive back, was a tackling machine in his Mean Green debut. Harvey, who came to North Texas after stops at Texas A&M and South Carolina, had 12 tackles in the first half and finished with 14.
Senior wide receiver Rico Bussey, Jr. (Lawton, Oklahoma) climbed the school receiving records:

Fourth in career receiving touchdowns with 21, tying Johnny Quinn (2003-06) fourth with 21, David Brown (1991-94) third with 23; Troy Redwine (1992-95) second with 23.
Fourth in career 100-yard games with nine, tying Ron Shanklin (1967-69).
Ninth in career receiving yards with 1,791, passing Pete Harvey (1978-81) and Marcus Camper (1985-88), who will be inducted into the North Texas Hall of Fame this fall.

Bussey's 156 yards receiving Saturday is his career high.
Redshirt freshman safety Jaxon Gibbs recorded his first career sack when he dropped ACU's Luke Anthony for an 8-yard loss in the first quarter.
Denton Ryan junior linebacker Tyreke Davis recorded his first career sack and recovered an ensuing fumble.
Sophomore kicker Ethan Mooney (Fort Worth), in his first game handling the place-kicking duties, was perfect on the night, hitting all three of his field-goal attempts and all six of his extra points.
Junior defensive back Cam Johnson (Houston) had a career-best eight tackles.
Senior defensive end LaDarius Hamilton had a career-high three quarterback hurries.
Sophomore linebacker K.D. Davis had a career-best eight tackles.
This was Abilene Christian's first game at Apogee Stadium, in its 15th game in Denton.
Link to full article:  https://meangreensports.com/news/2019/8/31/football-north-texas-rolls-past-acu-51-31.aspx