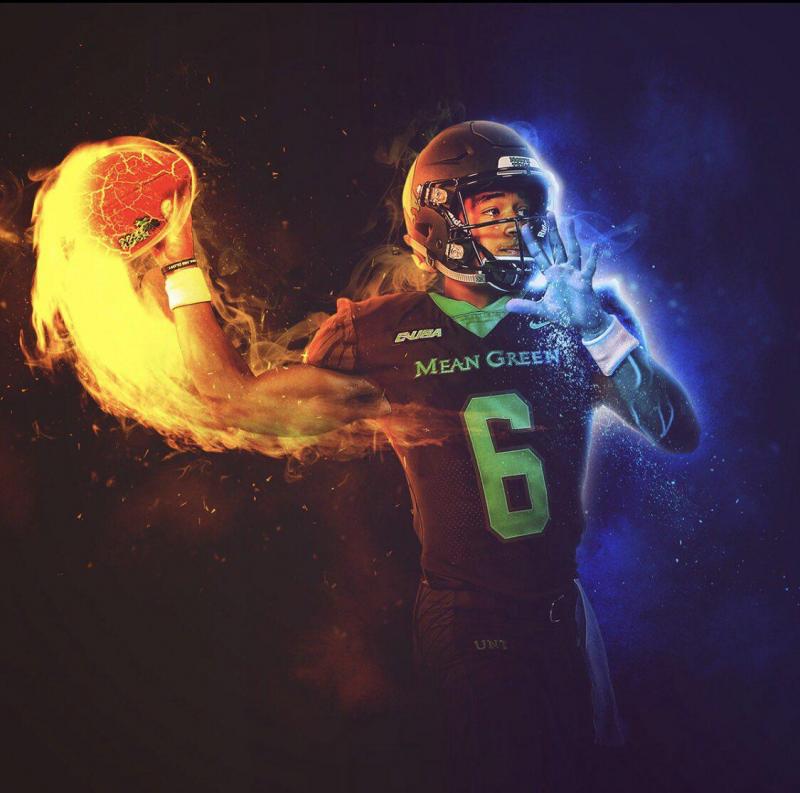 It seems like just a few years ago, North Texas fan attention was locked in on a heated QB battle that included the likes of Danny Mac prodigy Andrew McNulty, juco-transfers Josh Greer and DaMarcus Smith, and of course fan favorite Dajon Williams.  Unfortunately, things just did not work out on the field (or the win column for that matter) and the quarterback position became one of the more challenging issues the program faced in its quest to rebuild.  North Texas had become a hard place to recruit a good quarterback to.  Fast forward to 2018 and suffice it to say, things have changed for the better.
One can certainly argue that Seth Littrell hasn't necessarily lit up the recruiting world the last two seasons.  That said, the class of 2019 - on paper - appears to be extremely good.  What he has done is improved the roster at every position, not only at the top of the 2-deep but also in terms of depth.    Of every position, quarterback could be the most improved group overall making it a good place to start the GoMeanGreen.com roster position by position preview.   
The Starter
#6            Mason Fine       QB         5-11      185       JR              Peggs, OK           Locust Grove HS
Mean Green Sports.com Facts
Currently sixth all-time on the school's passing list for his career (5,624 yards), sixth in passing touchdowns (37), first in passer efficiency (133.88), sixth in career completions (479), seventh in career pass attempts (772), second in career completion percentage (62.0 percent), has the most 300-yard passing games in program history (8) and fourth most 200-yard passing games in program history (17)
Owns North Texas single-season passing yardage (4,052), touchdown (31), completion (324), pass attempts (511) records, all set in 2017
2018:
• On the Maxwell Award and Davey O'Brien Watch Lists
• Named a Player to Watch by the Touchdown Club of Columbus
• Selected to the C-USA Preseason All-Conference team
2017:
• Finished by completing 324-of-511 passes for 4,052 yards with 31 touchdowns and 15 interceptions in 14 starts and was named Conference USA Offensive Player of the Year and was a first-team all-conference selection
2016:
• Named to the C-USA All-Freshman team
• Completed 155-of-261 passes for 1,572 yards with six touchdowns and five interceptions, along with two rushing scores in 10 appearances, nine of which were starts
GMG.com Take
It is a very nice feeling having the reigning C-USA offensive player of the year returning for just his junior year.   Fine will also have virtually all his weapons and offensive line returning as well as his coaching staff, which is unprecedented in North Texas football lore.   I believe Mason will continue where he left off last year and will continue to improve and build on his already record-breaking numbers. The only question mark isc an the offensive line keep him up right and healthy?  With the returning starters and having the second year with offensive line coach Chuck Langston you have to think his protection should improve.  If Mason can equal or better his performance and stats from last season, and stay healthy, watch out – this could be a big year for the North Texas program.

The Back-up
#19         Quinn Shanbour              QB         6-0        202       RS SR          Oklahoma City, OK         Heritage Hall HS
Mean Green Sports.com Facts
2017:
• Completed 4-of-6 passes for 34 yards and a touchdown and carried six times for 53 yards in 14 appearances
• Member of the team's leadership council
GMG.com Take
I know some that follow the team may not be as high on Quinn Shanbour as I am.  He has been a good soldier behind the scenes, and proven to be an outstanding student and even better leader that the players respect and look up to.   He is like having a coach on the field.   Against Iowa last season he proved he can move the ball down the field in a clutch situation and lead the offense.   Losing a starting quarterback like Mason Fine is a situation you never want to envision but you have to be prepared for it.  The coaches have confidence in Quinn to come in and get the job done.   HOT TAKE ALERT:  If Quinn was at a few other C-USA schools - not naming any other team names - it is very likely he would be their starter at the beginning of the year.
 
The Wild Card
#13         Austin Aune       QB         6-2        199       FR              Argyle, TX          Arkansas
Mean Green Sports.com Facts
Previous School:
• Spent the spring at Arkansas
Baseball:
• Spent six seasons in the New York Yankees organization, spending the last two seasons at High-A Tampa
• Selected in the second round, as the 89th overall pick in the 2012 MLB First-Year Player Draft
High School:
• Originally a three-star prospect who signed with TCU
• Threw for 3,411 yards and 33 touchdowns and rushed for 538 yards and nine more touchdowns as a senior at Argyle HS
GMG.com Take
Austin Aune is very intriguing prospect.  After a very good career at Argyle he had a ton of offers and signed with P5 TCU.  He ultimately decided to pursue professional baseball with the Yankees which is no small feat.  With the money they gave him it's hard to blame the guy.  Professional baseball didn't pan out and he wanted to give football another shot.  He has built a very good relationship with the North Texas staff and has a great chance if he can regain form to be the heir apparent after Mason Fine leaves.   Several players have tried to make the switch to MLB to NCAA football, most notably Brandon Weeden with Oklahoma State.   There have been several who  have made the attempt and not panned out for several reasons so there is always a risk.   Plus there are a lot of young guys with talent who are looking for snaps.  Austin has a home near Denton and seems really motivated to be good at football, so it is an exciting proposition.  He is also not requiring a scholarship which makes it a fairly low-risk situation for North Texas.

A Bright Stable of Young Arms 
#10         Cade Pearson     QB         6-3        207       RS FR             Texarkana, TX    Texas HS
#17         Kason Martin     QB         6-3        206        FR                   Manvel, TX         Manvel HS
#5            Jason Bean         QB         6-3        180      FR                   Mansfield, TX    Lake Ridge HS
#16         Cobe Craft         QB         5-11      190        FR                    Keller, TX            Fossil Ridge HS
#11         Kane Hardin       QB         5-11      183       RS SO              Irving, TX            Texas Wesleyan
This young crew of prospects offer a ton of raw talent and potential.  Cade Pearson is starting his second season with the team.  He has shown a lot of improvement in his play so far in practice and performed admirably in the spring game.  Cade will defiantly be in the conversation when staff looks for their heir apparent to replace Mason. Kason and Jason were both signees in this last class (2018).  Both have features you can get excited about and had very good high school careers at solid programs.  The thing that stands out about Jason is his wheels, this kid can fly.  Not only does he have a Division 1 type arm, he has the athletic ability that he will get him on the field in some capacity.  Believe me when I say this, he will first get a VERY long look at QB, as the staff is very high on him.   Kason is a coach's son just like Cobe Craft.  Both will bring a ton of knowledge into the QB room.  Kason can make any throw on the field and has a very solid frame for a young guy with room to grow.  He will be another to watch closely in the future.

Overall Outlook
We all know that quarterback is arguably the most important position in all of sports. I believe North Texas is in the best spot they have been at this position since I have been covering the team.   It also could become one of the best G5 QB rooms in the country if they continue to improve and develop.  Littrell and his air raid offense has made North Texas a destination spot for top quarterback talent, versus a place where guys end up. 
North Texas in a good place for the current and the future at the quarterback position and  if you are a fan it should be a whole lot of fun to watch.