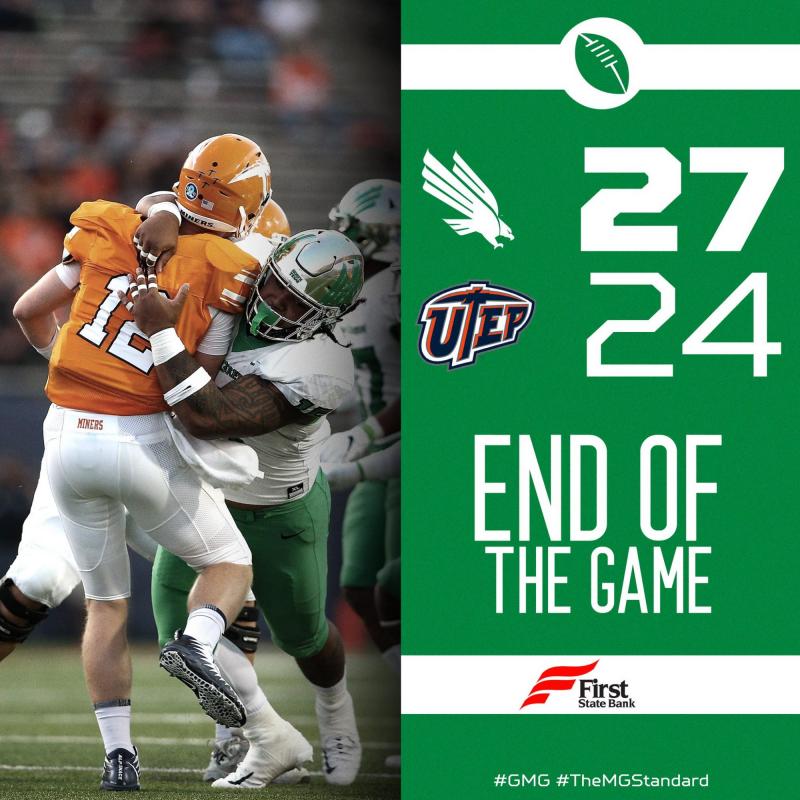 It was just barely enough.
Winless UTEP, playing like a team desperate to snap the nation's longest losing streak, hung with the Mean Green all night. Twice North Texas built a 10-point lead in the second half, and twice the Miners pulled within a field goal. It took a quarterback sack by North Texas' E.J. Ejiya and Bryce English in the final two minutes, then surviving a Miners' near miss on fourth down, before the Mean Green finally sent the Miners to their 18th-straight loss, 27-24.
"I want to give coach (Dana) Dimel and UTEP a lot of credit," North Texas coach Seth Littrell said. "They played extremely hard.
"But we have to play a lot cleaner," he added. "We couldn't get into rhythm or sync offensively in the first half. We didn't play to our standards whatsoever. Just way too many mistakes."
North Texas is 5-1, its best start since 1988.
The Mean Green got off to their slowest start of the season, failing to score on their opening two possessions as UTEP generated early pressure on Fine. The Miners, meanwhile, with Ryan Metz starting at quarterback for injured Kai Locksley, put together a pair of sustained drives and jumped out to a 3-0 lead. An interception by North Texas' Tyreke Davis, however, turned away the second threat.
North Texas mounted its first scoring drive late in the first quarter on the strength of a 38-yard pass from Fine to Bussey, followed by an 18-yard TD pass to Darden, who broke a tackle at the 7-yard line and tight-roped down the sideline for a touchdown.
But the North Texas offense could not find consistency. Big plays were followed by critical mistakes, including dropped passes by multiple receivers and an inconsistent running game. UTEP, meanwhile enjoyed success through the air, especially on yards after catch, including turning a short toss into a 29-yard touchdown early in the second quarter to give the Miners a 10-7 lead.
However, North Texas made three plays late in the half to stem UTEP's momentum.
First, wide receiver Cudjoe Young fought his way through a defender for a 23-yard reception on third and 10. Five plays later, Cole Hedlund made a 52-yard field goal, the longest of his career and tied for the ninth longest in school history, to tie the game at 10-10. Then defensive back Nate Brooks stopped a UTEP threat just before halftime with his fourth interception of the season at the goal line.
"We had some come-to-Jesus talks," Littrell said of the Mean Green halftime locker room. "We had too many drops. That's when we lose focus a little bit."
The Mean Green found its offense in the third quarter, getting another field goal from Hedlund and an 11-yard touchdown on a shovel pass from Fine to Bussey for a 20-10 lead, as Fine completed 14 of 15 passes in the second half.
But UTEP refused to fold. It responded early in the fourth quarter with a 90-yard scoring drive, the longest march North Texas has allowed this year, to edge within 20-17 with 10:43 to play.
North Texas answered with a nine-play, 75-yard drive, burning up half of the period's remaining clock and opening a 27-17 lead on a Nic Smith 20-yard touchdown run.
And UTEP struck back immediately with a 67-yard touchdown pass.
The Miners then stopped the Mean Green's next possession, setting the stage for one final comeback attempt. That final rally, however, was foiled by Ejiya and English, who sacked the Miners' QB for a 10-yard loss to set up fourth and 17. The fourth-down play narrowly failed when a pass over the middle slipped off the receiver's finger tips.
"A W is a W," Littrell said. "We're going to enjoy this win. But we are going to clean up these mistakes."
Quick Hits
North Texas' 5-1 start is its best since 1988, when it opened 6-1. The 1988 and 2018 starts each include a road win over a Power 5 opponent; at Arkansas in 2018, at Texas Tech in 1988.
Junior quarterback Mason Fine (Peggs, Okla.) moved into second place in career passing yards at North Texas, surpassing Heart of Dallas Bowl MVP Derek Thompson (2009-13). Fine has 7,542 yards, and trails only Mitch Maher (1991-94) on the all-time list. Maher had 8.519 yards. If Fine maintains his current pace, he will overtake the top position this season.
Fine had the 22nd 200-yard passing game of his career, second most in UNT history.
Sophomore defensive back Tyreke Davis (Denton Ryan) had the Mean Green's 11th interception of the season and the first of his career when he undercut a UTEP receiver and made a diving catch to stop a Miner drive at the North Texas 28-yard line.
Junior wide receiver Rico Bussey, Jr., (Lawton, Okla.) continued what is becoming the best season by a North Texas wide receiver since Casey Fitzgerald rewrote the UNT record book in 2007 and 2008. With 117 yards on 8 receptions against UTEP, Bussey is on pace to join UNT's list of top-10 single-season receiving seasons in yards, receptions and touchdowns.
An 11-yard score in the third quarter was Bussey's eighth receiving TD of the year, which ties for the 10th most in a single season at UNT with Troy Redwine (1993-95).
Bussey had the sixth 100-yard receiving game of his career, which ties for sixth most all-time at UNT with Johnny Quinn (2003-06), Redwine and David Yaege (1971-72).
Senior wide receiver Cudjoe Young (Chattanooga, Tenn.) had the longest reception of his career, a 23-yard catch to set up UNT's game-tying field goal in the second quarter.
Senior kicker Cole Hedlund (Argyle, Texas) hit a 52-yard field goal in the second quarter, the longest of his career and tied for the ninth longest in school history.
Sophomore wide receiver Jaelon Darden (Houston) had a career high in receiving yards with 91, on 5 catches.
Senior defensive back Nate Brooks (Whitehouse, Texas) recorded his fourth interception of the season, matching his season best in 2016. It was the eighth of his career.
Redshirt sophomore running back DeAndre Torrey (Gautier, Miss.), who took over the primary rushing duties following the season-ending injury to Loren Easly, had a career-high 70 yards on 19 carries.
Sophomore defensive lineman Dion Novil (Abilene, Texas) had the first field goal block of his career, tipping a 53-yard attempt in the third quarter. It was the Mean Green's first field-goal block since Zach Orr blocked a field goal in 2013, also against UTEP.
Senior linebacker E.J. Ejiya (Blaine, Minn.) had one tackle for loss Saturday to give him 26.5 for his career, moving ahead of Corbin Montgomery (1996-99) for fifth most in UNT history.
UNT's Keegan Brewer, of the famous punt return against Arkansas, was again on punt return duty. Each time Brewer called a fair catch, the Miners had a defender keeping a close eye on Brewer until he actually surrendered the ball to the officials.
Although North Texas and UTEP have met in football 27 times (with UNT holding a 16-8-3 advantage), this was just the sixth meeting since 1980. All six have been since the Mean Green joined Conference USA in 2013. This was UNT's first win in El Paso since 1980, and it levels the C-USA series against the Miners at 3-3.
Saturday was UTEP's homecoming, and the Miners celebrated their 1988 team. A member of that squad was North Texas defensive coordinator Troy Reffett, who, in addition to playing at UTEP, was on the Miners' coaching staff for 14 seasons.
The UTEP-UNT connections run both ways. UTEP offensive coordinator Mike Canales was offensive coordinator, associate head coach, quarterbacks coach and twice an interim head coach at North Texas from 2010 to 2015, and UTEP offensive line coach Mike Simmonds held the same position with the Mean Green from 2011 to 2015.
link:  https://meangreensports.com/news/2018/10/6/football-mean-green-escape-el-paso.aspx