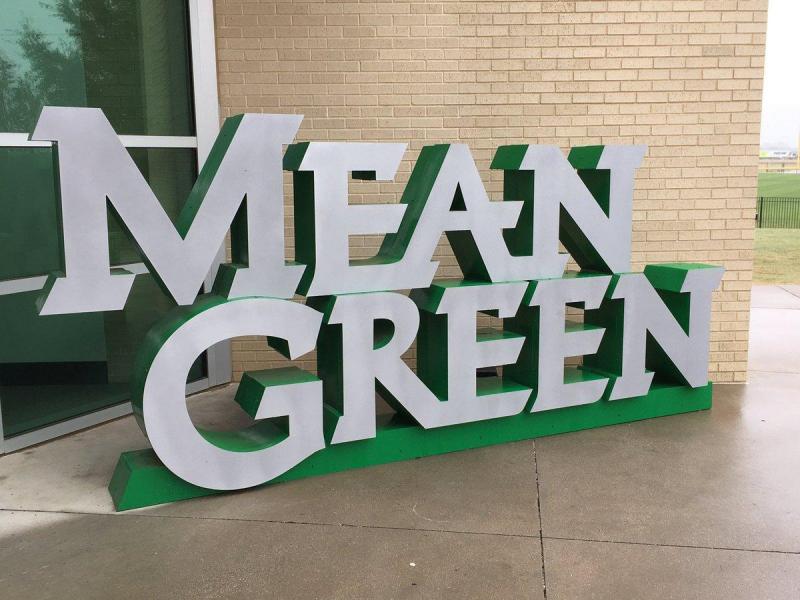 DENTON – There is only one team in the Football Bowl Subdivision that has not trailed by more than one score in 2018, and it's not anyone playing in the College Football Playoff. It's the North Texas Mean Green.
Three short years ago, the outlook was not so rosy. North Texas saw itself trailing by multiple scores routinely during 1-11 season that saw a coach relieved of his duties midway through the year.
Members of the senior class have seen quite a bit in their time in Denton. Quarterback Quinn Shanbour, who is finishing his sixth season on campus, has a unique view of the changes at UNT. In his first season, the Mean Green win nine games and the Heart of Dallas Bowl; in his third, UNT went 1-11; now, he's been part of two straight nine-win seasons.
"I was very lucky to be a part of the 2013 season and obviously the 2018 season, and it feels like two mountain peaks and a real deep valley in between," Shanbour said. "Going out on a high is really big for me."
That valley was a major low point for a program in desperate need of a reset. Enter Seth Littrell. The former North Carolina offensive coordinator brought his high-flying Air Raid attack to Denton and made significant changes across the board to lift the program out of the doldrums.
The 2015 campaign was tough on everyone. Fans, coaches, administration, but, most of all, the student-athletes. Perspective, however, helped them climb out of it.
"I don't really look at 2015 as a tough year as much as it was a lesson," defensive lineman Ulaiasi Tauaalo said. "We came back the following spring and the biggest thing was that everyone bought in (with coach Littrell) quickly. Throughout the years there have been a lot of highs and lows, but everything has happened for a reason."
Littrell instilled a set of core values, and he and his staff transformed the culture. When Littrell told the room of 100-plus players on report day that their goal in 2016 was to win a bowl game that year, no one batted an eye, despite the fact that those outside that room would meet that statement understandably, with a whole lot of skepticism.
Littrell created a family-oriented environment. He made sure it was a true level playing field upon his arrival, and gave everyone the opportunity to compete for jobs and roles within the team. Shanbour, a walk-on when Littrell arrived in Denton, impressed his new head coach with his work ethic and attitude, becoming the first player that earned a scholarship under Littrell's guidance, which is a source of pride for the Oklahoma City native.
After a 5-7 regular season, the Mean Green earned a berth in the Zaxby's Heart of Dallas Bowl thanks to a strong Academic Performance Rate.
"You can attribute a lot of the success to the change in culture," cornerback Nate Brooks said. "Before this coaching staff got here, the culture was just bad. There was no other way to describe it. It was a lot of players just doing what they wanted and not buying into the team and playing for themselves. Once this staff got in and changed the culture, it changed our team's mindset. Them changing the culture is a large part of how successful we've been."
The culture is built on family and accountability, and it started to take shape in 2016 and continued to grow as 2017 approached.
North Texas saw a massive jump in 2017, improving on its win total by four games, thanks in part to a breakout performance by quarterback Mason Fine and the offense that scored 35.5 points per game. Close wins were a calling card, as five of those nine wins were decided by one possession or less.
There were a lot of times, however, where the team found itself trailing. It was really good at climbing out of holes, but found themselves in that situation far too often.
But 2018 felt different. Expectations were sky high heading into the season and the Mean Green answered the bell early, opening at 4-0 with a landmark win at Arkansas. The standard was raised. That meant fan and media expectations were high as well, so when some losses came, so too did the criticism.
"We felt like the better team at all times this year," Shanbour said. "Thinking about never trailing by more than a possession, it means we are always in the game, which gives us a great chance every week. Unfortunately in the losses the opponents got that last drive on us."
It shows just how far the program has come in three short years that some were disappointed with a 9-3 season. Now, with an opportunity for a 10th win staring the Mean Green in the face, this group sees the chance to leave its legacy.
"The biggest thing is that the foundation is set now," Tauaalo said. "This is normal now. Knowing when we step out there that we're the better team, we know we built that from our workouts, from our summers, to spring, how everyone does the little things. Accountability for something small makes a big difference. Everyone takes care of business in a professional way like it should be.
"My biggest takeaway from my time here is that I can leave here knowing that the foundation is set. That will keep me at peace. I'm walking away knowing that there's great things ahead for the program, and I'm just glad to be a part of the journey of what is next for this program."
Heading into this week's New Mexico Bowl against a very talented Utah State team, there is a lot at stake for North Texas. It can win 10 for the third time in 103 years of North Texas football, it can knock off a ranked opponent for the second time ever and first time in 44 years, and it can accomplish the mission set forth by Littrell in that meeting in August of 2016.
What would winning Saturday's New Mexico be like?
"That'll be my Super Bowl for right now," Brooks said. "It will probably be one of the greatest moments of my life up to this point."
Link:  https://meangreensports.com/news/2018/12/12/football-how-did-we-get-here.aspx
Edited by Harry