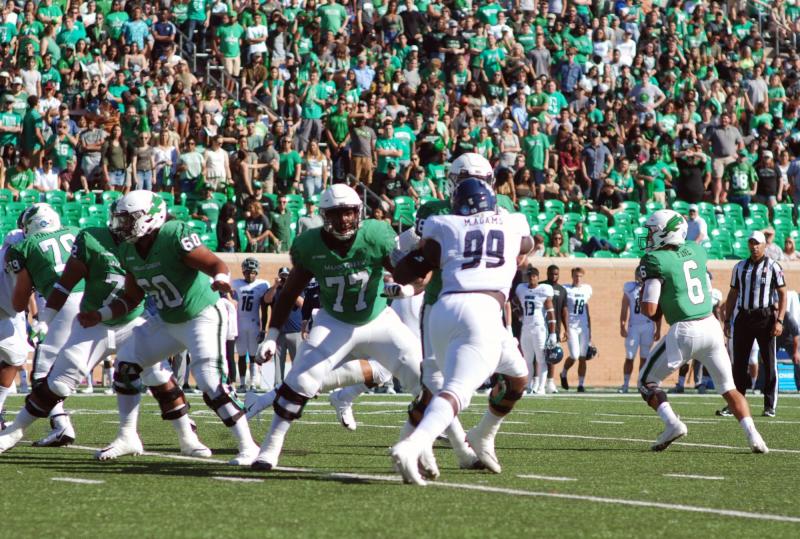 DENTON - North Texas got another strong performance from its defense and a massive night from running back DeAndre Torrey to earn a 41-17 win over Rice in Saturday night's homecoming at Apogee Stadium.
Torrey, a sophomore from from Gautier, Miss., rushed for a career-high 130 yards and three touchdowns and added a 5-yard TD reception to his resume, igniting the North Texas attack to a 24 unanswered points and blowing open a game that was tied in the third quarter.
"He did a nice job," North Texas coach Seth Littrell said of Torrey. "He broke some tackles, and it was nice to get back to running the football much better. I was proud of the way he ran."
"I knew I had to step up this week," Torrey said. "I'm putting it on my shoulders to get the job done."
The Mean Green (7-2 overall, 3-2 in Conference USA) survived a pair of turnovers that led to 10 points for the Owls. In addition to Torrey's big game, UNT got a 333-yard, two-touchdown effort from quarterback Mason Fine, a career-best 145-yard receiving night from wide receiver Rico Bussey, Jr., and a defense that allowed the Owls only one sustained drive.
The leaders on defense were legion. North Texas linebacker Joe Ozougwu, a redshirt sophomore from Alief, Texas, had seven tackles, including two for loss and a sack. E.J. Ejiya and Khairi Muhammad each had eight tackles, Nate Brooks had a pair of pass breakups, defensive lineman Dion Novil had six tackles and batted down a pass, and Brandon Garner had two tackles for loss and a sack.
Rice, which fell to 1-8 and lost its eighth in a row, took a 7-0 lead with a 75-yard drive on the opening possession of the game, mixing run and pass between a pair of local true freshmen, quarterback Wiley Green of Plano and running back Juma Otoviano of Arlington.
The Mean Green defense, however, rang up five tackles for loss, including a sack by Garner, and surrendered just 91 yards on Rice's next five possesions, while the offense got a 68-yard touchdown pass from Fine to Bussey and a 44-yard run by Torrey - which led to a Torrey 11-yard TD run - to wipe out the early deficit and give North Texas a 17-7 lead late in the half.
But the North Texas offense vacilated between those explosive plays and crippling mistakes. Fine was under almost constant pressure from the Rice pass rush and was sacked three times and hurried into incompletions four more times, and the Mean Green surrendered two fumbles that set up a Rice field goal to end the first half and a touchdown to start the second, leveling the game at 17-17.
"We've got to clean up some protection things and make sure we're protecting our quarterback," Littrell said.
The Mean Green, however, took control again behind its suffocating defense. After the Owls drew even, North Texas allowed Rice just 28 yards on 17 plays over its next five possessions.
The offense, meanwhile, got a jolt of life when Fine again went deep to Bussey, this time for 40 yards to set up a 23-yard field goal by Cole Hedlund and a 20-17 lead. Torrey's second touchdown of the night then gave the Mean Green breathing room at 27-17.
North Texas sealed the win when Joe Ozougwu's sack shook loose a fumble that Garner recovered at the Rice 14-yard line. On the next play, Torrey scored his third TD of the night for a 34-17 lead.
"I'm really proud of the way our men finished the game," Littrell said. "We've got a lot of things to clean up, but after nine weeks, we're coming into a much-needed off week."
Quick Hits
The Mean Green's 7-2 start is their best since 1978, the last year under coach Hayden Fry, when North Texas went 9-2.
Junior wide receiver Rico Bussey, Jr., (Lawton, Okla.) had a career-high 145 yards receiving, besting his 128-yard game earlier this year against Incarnate Word, and his 68-yard first-quarter TD reception was UNT's longest play of the season.
Bussey has 10 touchdown receptions this season, tying John Love (1966) for sixth most in a single season at North Texas.
Redshirt senior kicker Cole Hedlund (Argyle, Texas) hit two field goals Saturday, giving him 15 this season and moving him into the top 10 in single-season field goals at UNT. He is tied for third with Trevor Moore (2014) and Dennis Hopovac (2016), and he surpassed Nick Bazaldua (2004), Garrett Courtney (1997), Jeff Graham (1996), Keith Chapman (1987) and Whit Smith (1980).
Sophomore running back DeAndre Torrey's 44-yard run in the first quarter was the longest of his career. He finished with a career-best 130 yards, the first 100-yard game of his career.
With his 333-yard effort against Rice, junior quarterback Mason Fine (Peggs, Okla.) has 8,503 career passing yards, moving him within 16 of UNT's all-time career mark of 8,519 held by Mitch Maher (1991-94).
Fine moved into second place in UNT career yards of total offense with 8,647 yards, surpassing Scott Davis (1987-90).
Fine has thrown 276 passes without an interception, the longest such streak in the nation.
Senior linebacker Brandon Garner (Mansfield, Texas) had two tackles for loss, giving him 12.5 for the season, tying him with Aaron Belazin (2013) for eighth most in a single season school history.
With two quarterback sacks against Rice, North Texas has 28 sacks this year, the ninth best team total in school history.
With 7 yards receiving Saturday, sophomore wide receiver Jaelon Darden topped 500 yards for the season. Along with Bussey and Jalen Guyton, he gives UNT three receivers with 500 yards receiving this year.
Rice quarterback Wiley Green, a true freshman from Plano, made his first career start for the Owls.