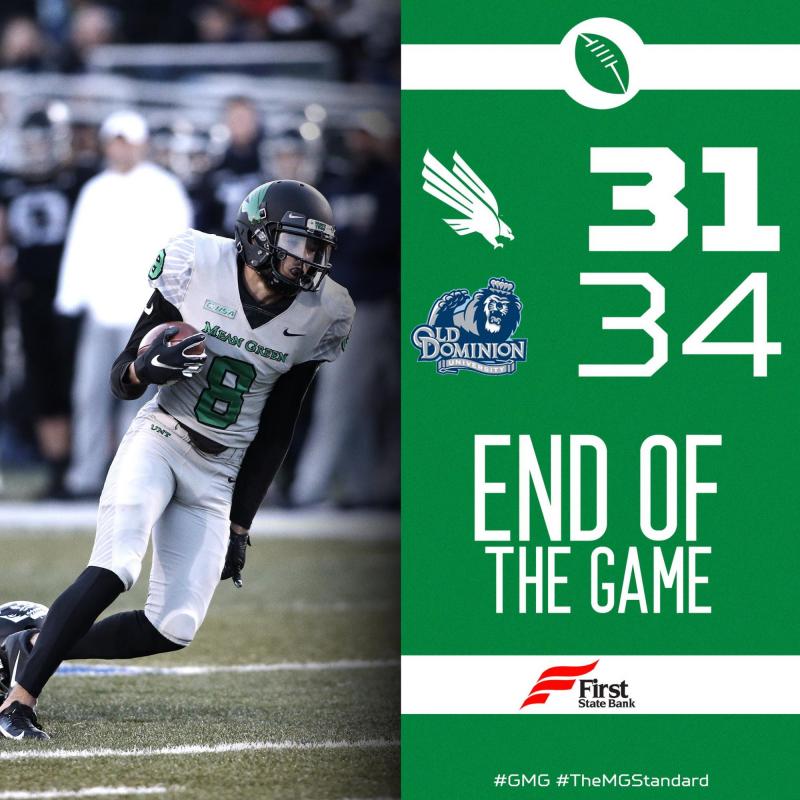 North Texas built a 28-0 lead in the first half, getting a pair of touchdown passes from Mason Fine to Rico Bussey, Jr., and two rushing scores from DeAndre Torrey, before the Monarchs showed the form that earned them a win over Virginia Tech, which was then the No. 13 team in the nation.
"There's enough blame to go around, coaches and players," North Texas coach Seth Littrell said. "We've got to figure how to finish these games off."
The day started brilliantly for North Texas. On the Mean Green's opening possession, junior quarterback Mason Fine became the Mean Green's all-time leading passer, breaking the 24-yard old record set by Mitch Maher. Fine broke the record with a 23-yard touchdown pass to Bussey, and finished the day with 240 yards, two TDs and 8,743 career passing yards.
The Mean Green (7-3 overall, 3-3 in Conference USA) jumped out to a 14-0 lead, scoring on their first two drives which were set up by big plays from the defense. Defensive back Kemon Hall's fourth interception of the season, on ODU's opening possession, led to Fine's record-setting 23-yard touchdown toss to Bussey, and a quarterback sack by LaDarius Hamilton forced a Monarch punt and led to Torrey's first touchdown of the day, a 37-yard burst through the middle of the ODU defense.
Torrey, on his way to a 91-yard first half and a career-best 145-yard output, scored his second TD of the game on a 7-yard run, and Fine's second touchdown toss to Bussey ballooned the lead to 28-0 late in the half, at which point North Texas had out-gained the Monarchs 234-73.
Old Dominion, however, tapped the brakes on the blow out and clawed back into the game with 10 points before halftime. The Monarchs (3-7, 2-5) almost matched their offensive output for the rest of the half on one drive, hitting a 61-yard pass to the UNT 3-yard line to set up a 1-yard scoring run. After ODU intercepted a Fine pass, the Monarchs added a 48-yard field goal, getting into scoring position via an ODU fake punt and a Mean Green unsportsmanlike penalty.
Things got much tighter early in the second half when the Monarchs forced a three-and-out from North Texas, converted a fourth-and-2 at the Mean Green 40, and quarterback Blake LaRussa avoided a big Mean Green pass rush to hit a 12-yard touchdown pass and chop the UNT lead to 28-17.
Bussey provided North Texas a spark on special teams when he slashed in from the punter's right to block an ODU punt, which set up the Mean Green's only points of the second half, a 35-yard Cole Hedlund field goal.
But that did little to slow ODU or fuel UNT. ODU scored in a 4-yard touchdown to pull within 31-24, then forced and recovered a Mean Green fumble. ODU converted a third and 16 with a 53-yard pass, leading to a field goal and chopping the margin to 31-27.
North Texas had two possessions before ODU's final drive, but could do little with them, turning the ball over on downs once and punting the second time, setting the stage for the Monarch's final heroics, which were capped by a 1-yard touchdown run by Lala Davis.
After their fast first-half start, the Mean Green offense managed just 161 yards the rest of the way, lost two turnovers, turned the ball over on downs three times (including a failed fake field goal), were flagged for four times for 15-yard penalties, and gave up three sacks, including on final play of the game to snuff out a final desperation attempt.
"We've got to be more disciplined," Littrell said. "Tonight it bit us."
Quick Hits
In just his junior season, quarterback Mason Fine (Peggs, Okla.) became the Mean Green's all-time leading passer with 8,743 career yards, breaking the 24-yard old record set by Mitch Maher. Fine broke the record on UNT's opening possession with a 23-yard touchdown pass.
In addition to ascending to the top of the Mean Green career-passing-yards pyramid, junior quarterback Mason Fine (Peggs, Okla.) is making notable progress up the list of college football's all-time leading passers. Saturday, Fine moved to No. 215 on the list, and he surpassed a quarterback from Pitt who ended up in the Pro Football Hall of Fame: Dan Marino.
Fine also debuted among Conference USA's all-time career-passing leaders, slipping past Jason McKinley of Houston into 20th place.
Fine also became UNT's all-time leader in career passing attempts with 1,160.
Fine has 3,119 yards passing this season, the third 3,000-yard campaign in program history. Fine owns one of the other two, his UNT-best 4,052 yards of a year ago. Fine is the first QB in UNT history to pass for 3,000 yards or more in back-to-back seasons.
Fine saw his nation's-longest streak of passes without an interception end at 300 when he was intercepted in the second quarter, just his second pick of the season.
Sophomore running back DeAndre Torrey (Gautier, Miss.) had a career-high 149 yards rushing, and he entered UNT's all-time top 10 in single-season touchdowns (rushing, receiving and returns) with 14, tying Leo Taylor (1968) and Abner Haynes (1959) for seventh place; and in single-season rushing TDs with 12, tying Mike Jones (1977) for seventh place.
Junior defensive end LaDarius Hamilton (Corrigan, Texas) had two sacks, matching his single-game high.
Junior wide receiver Rico Bussey, Jr., (Lawton, Okla.) has 12 touchdown receptions this season, tying Casey Fitzgerald for second all-time at UNT singl single-season receiving TDs.
Bussey has 20 career touchdown receptions, which also ties Fitzgerald for fifth in career receiving TDs.
Bussey moved into the UNT's all-time top 10 in single-season receiving yards with 904, surpassing Ron Shanklin's 1969 season.
  https://meangreensports.com/news/2018/11/10/football-odu-rallies-past-mean-green-34-31.aspx