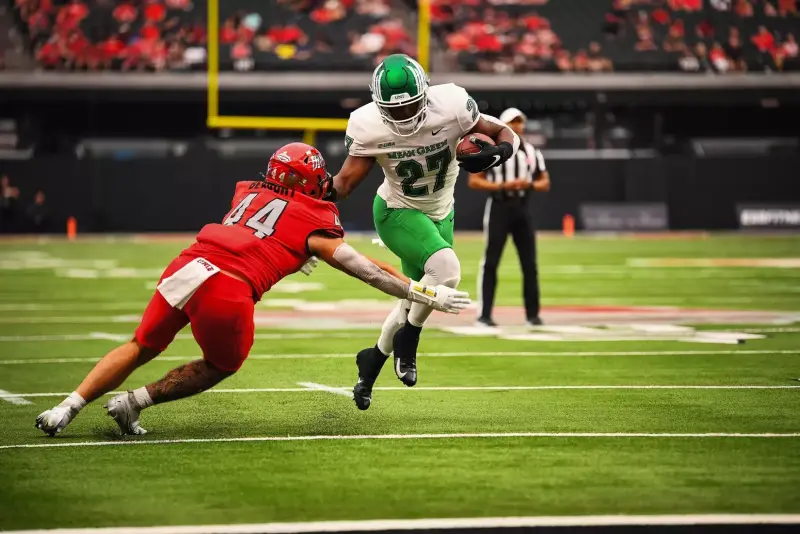 Part 1 of the 3-part Offensive Skill Position Preview - Running Backs
This position room has been North Texas bread and butter for the last few years. One of the deepest running back rooms in the country resides in Denton Texas. Led by North Texas Legend and he is also member of the North Texas Athletics Hall of Fame and the All-Century Football Team Patrick Cobbs. This group finished the 2022 season second in CUSA and 26th in the country in rushing, averaging two hundred yards a game along the way. North Texas had three of the top rushing leaders in CUSA with Ayo added 246 yards on the ground as well with three touchdowns.
If you told me that North Texas was able to survive the off-season without at least one of the four header monster of the running back exiting through the infamous transfer portal I would have told you that you were crazy.  In the state of college football today, it is hard to keep all conference level players. Much less when you have depth, and everyone is not getting to "eat" as much as they could if they were the only horse in the stable. So, I give credit to Coach Cobbs and every baller in the room for building a culture and relationships to keep the gang together.
FOUR THOROUGHBREDS
This foursome of Ayo Adeyi, Ikaika Ragsdale, Oscar Adaway III and Isaiah Johnson have all played a huge part in the #rUNThedamnball culture. North Texas made the transition from tee it high and let it fly during the Seth Littrell after the team struggled to replace Mason Fine at QB. They built a hard nose identity as a ground and pound team that is based out of an air raid setup. I believe Eric Morris will continue that identity. We have seen when Air Raid scheme meets a talented rushing attack it can work very effectively.  Morris has a stable of great running backs to make that a possibility.
 
AYO ADEYI
Each Running back brings his own style to the group. Ayo Adeyi the Jr from Mansfield Legacy is the smallest of the foursome, coming in at 5'7 188. But he is the most electric. He is the perfect change of pace back for some of the other bruisers in the RB room. He has racked up over 1300 yards in 2 seasons at North Texas, while averaging over six yards a carry.
OSCAR ADAWAY III
Oscar has been one of my favorite recruits of the last decade for North Texas. He is one of the lone recruits to come out of Arkansas during the Seth Littrell tenure. He brings a unique combo of size and speed that has shown promise while in Denton when he has been healthy enough to stay on the field. Injuries have been the only thing to slow him down since he arrived on campus. He has only been able to play in nineteen games during his 4 years on campus due to a couple of different injuries. But when healthy he could play on Sundays. During the nineteen games he has been able to rack up three yards shy of 1200 while also adding eight touchdowns.
 
IKAIKA RAGSDALE

Ragsdale came to North Texas all the way from Las Vegas, Nevada. He was the eighth ranked player to come out of Nevada that season according to 247 Sports. He could be described as the best all around back of the group. He has the size at 5-11 218 to be a goal line back, but also has the speed to take it to the house on any giving play. Ragsdale has added over 1200 yards and twelve touchdowns in his two full seasons on the field with North Texas. He is an every down back, as he is a threat in the passing game as well, adding 158 receiving yards and three touchdowns. I will be curious to see how much his workload increases this season.

ISAIAH JOHNSON
The JR from Lubbock is built like a bowling ball at 5-10 210. Johnson is the most underrated running back of the foursome. When I think about Johnson, I picture in running of defenders on the goal line and looking for contact. But he is very under the radar receiving threat as well. He has added 145 receiving. He has also added 673 yards and nine touchdowns on the ground as well.
WHO IS NEXT IN LINE?
The Mean Green have three running backs waiting in the wings in BK Jackson, Qualon Farrar, and Mackenzie McGill. Depending on injuries and how the season plays out all three could see playing time this season. Bk Jackson is the most experienced of the three. He came to North Texas as one of the most highly recruited RBs in the past decade for the program. BK had multiple SEC offers including Ole Miss and Tennessee. He saw action against in five games last season racking up fifty-two yards on ten carries. I believe he could be next in line in one of the big four go down for an extended period this season. All the big four for North Texas RB room are Juniors. Each could be graduating and moving on after this season. I believe we will see more of BK this season just to have him ready to take over the reigns if needed.
North Texas has built a nice pipeline to SOC the past few months since Coach Eric Morris arrived. But the pipeline to South Oak Cliff began when Qualon Farrar committed to North Texas after leading SOC to state championship game as a SR. He is a compact change of pace back at 5-5 191. He saw action in four games last season while still being able to keep his redshirt. He racked up fifty all-purpose yards during his four games. Will be interested in seeing how the new staff uses Farrar in the new offense. We have saw Texas Tech back in the day have a ton of success with the like of Jakeem Grant who came in at 5-7 171.
The last newcomer is walk on from Mt Vernon Mackenzie McGill. I would not usually list a walk-on on one of the positional preview lists, but Mcgill is an exception. I had the privilege to watch Mackenzie live while he was at Mt Vernon. He was Mr. Everything for Mt Vernon HS. He played RB, QB and LB for Mt Vernon. He owns every Mount Vernon season or career rushing record, while accounting for eighty-two touchdowns in his final two high school seasons. McGill rushed for 2,557 yards and thirty-five touchdowns during that time. North Texas has had a great history of walk-ons turning into stars. McGill could be next in line for that.
 
OVERALL THOUGHTS ON GROUP

I believe Eric Morris and company will continue the mantra of 'RUN THE DAMN BALL." If it is not broken do not fix it. North Texas created a personality and has had success with it. The running back room is the one of the deepest in the country and I think will be a huge part of any success North Texas has this season.