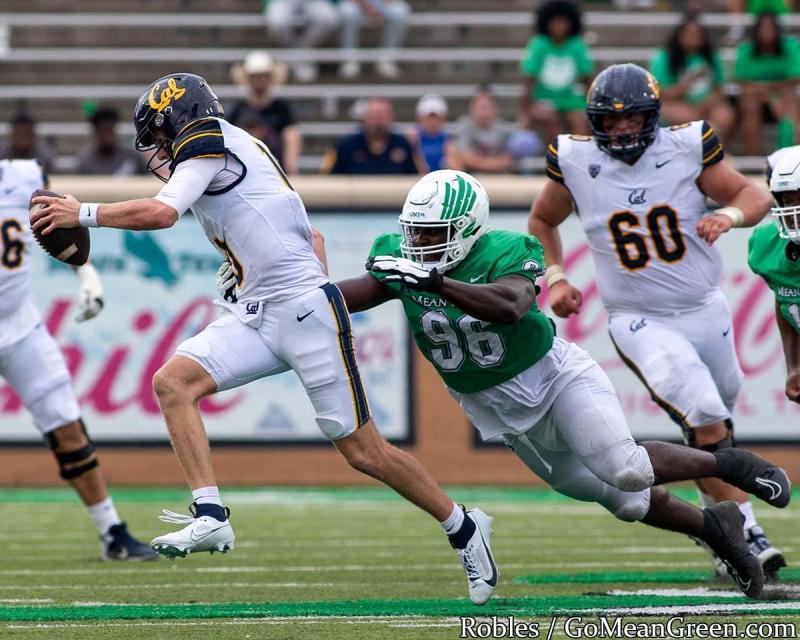 In a disappointing start to the Eric Morris era, the North Texas football team suffered a defeat in front of 21,000 fans at the newly named DATCU Stadium. The game held significance for UNT as they hosted a Power 5 opponent, California. It was a momentous day for the university as the North Texas basketball team, present at the game, received their rings for their NIT Championship.
The game did not go as planned for North Texas, as they were outplayed by California, ultimately losing by a score of 58-21. The defeat was exacerbated by the fact that California had recently announced their move to the Atlantic Coast Conference, joining SMU and Stanford.
Adding insult to injury, former UNT Offensive Coordinator Mike Bloesch, now serving as California's Offensive Line and Run Game Coordinator, put on an impressive display in his first game. California's rushing attack was dominant, accumulating 357 yards on the ground, averaging 6.4 yards per carry, and scoring six touchdowns. In contrast, North Texas struggled to establish their running game, only managing 41 yards on 1.5 yards per carry.
Despite the loss, there were a few bright spots for North Texas. Wide receiver Ja'mori Maclin had an outstanding performance, recording four catches for 122 yards and two touchdowns. However, North Texas faced challenges in all three phases of the game. The defense missed crucial interception opportunities and failed to make stops on fourth down due to poor tackling. On offense, interceptions were thrown, and the team struggled to generate any momentum. Additionally, special teams had issues with subpar punts.
The game also shed light on concerns regarding the defense under Coach Caponi. The two-deep roster included more walk-ons than players recruited by Coach Caponi, raising questions about the team's depth and potential impact on performance.
Looking ahead, North Texas aims to bounce back in their upcoming game against Florida International in Miami. Despite the disappointing start, North Texas opened as 17-point favorites for the game, indicating the potential for a rebound performance. The team will need to address the shortcomings from the previous game and make adjustments to improve their chances of success.
While this defeat was a setback for North Texas, it is important to remember that it is just the beginning of Eric Morris's tenure. With time, adjustments, and continued development, the team has the potential to overcome these challenges and achieve success in the future.