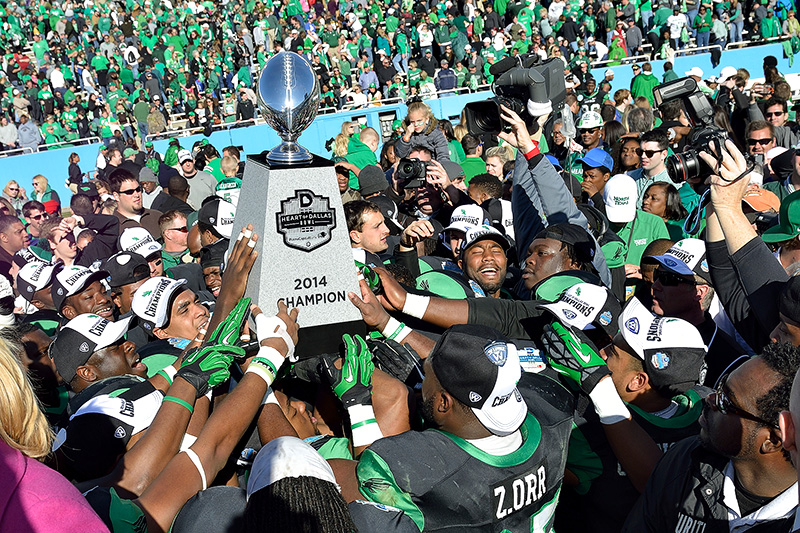 Content count

2,121

Joined

Last visited

Days Won

2
Community Reputation
1,389
Purple Heart
About NM Green
Profile Information
Home
Interests

Hiking, Mean Green Football, all sports, dining, Mean Green Anything!!!
Recent Profile Visitors
I think this is going to blow up in Kiffins face. Awesome, that means we might get the championship game in Apogee this December! Briles had skins on his wall and is in his way up regardless of genetics. I'm about second chances and watch Houston rise back up and pound on that Big 12 door again. When Fau stumbles you can point right to this young man - fair or not it just reeks of Kiffin being afraid of having strength and experience around him. The door has been propped open. Go Mean Green!!!!!!

Agreed I watched undefeated utep vs undefeated nmsu a few years back and it was over the top atmosphere. The utep crowd will show up at home and away when They are competitive. We do need to beat them out there. I have seen at least two Mean green beat downs out there and it sux! Good pick up for them. Go Mean Green!!!!!

Abilene Christian always brought a crowd in the 80's. They were always the biggest crowd outside of Southwest Texas state those days. I'm fine with acu because they remind me of unt back in the day - traveled and showed up for the big games and played with a chip on their shoulder. Check out their future schedules - New Mexico I believe Baylor and other big boys the purple wildcats are going to show up for. They will bring a utsa utep type crowd to Denton. GMG

NDSU & Bama on top of the college football worlds. Power programs seizing opportunities demonstrating excellence. This championship game capped off one of my favorite football seasons ever. I am enjoying every drop of this Mean Green journey to relevance. Getting ready for more magic in 2018! GMG

Love baby briles Houston coming fau going. I would have taken the risk if Harrell gets hired away. Need to keep entire staff intact now for 2018. GMG

UCF was a great story this year. I also have two sayings I love and live by: 1. We may not always have it together, but together we have it all. 2. The problem is you think you have time. Buddha A cusa or abc school needs to make the NY6 game too. Happy New Year! GMG

Having Kiffin in the conference is tough but great for the Mean Green. Where he goes cameras follow, and we will see our share of the Florida owls for awhile. happy new year Nation! GMG

If I were tech I'd go get baby briles. Or if we get poached go get baby briles. Wish is for Harrell to come back and continue growing himself and us. Destination multiple championships and top rankings in 2018! GMG

15 row student banner with unfurl tradition that reads Go Mean green! Heck I may make this my mission for section 105. GMG

Need to ball 🏈 and win this game. It needs to be in front of a full house hopefully at night with a whole new crew of freshman students, energized alumni and a hungry team. Many pony fans ain't going back north for another slaughter. GMG

Sorry, but I sat through all the close misses against Texas Kansas state Idaho Navy, the entire Todd dodge era where we lost every close game. I don't look down upon a close win ever. Some call it luck I call it clutch. Next year I hope this team wins with some style points to appease the whole base. Love me some NewDenton! GMG

Oh and utsa army southern miss uab la tech if they would have won would they be begging their teams not to count the unt win? Sad if so but somehow I doubt it. be an osu fan. Legitimate 9 plus team win team lots of fans and easy to cheer for. There's always a happy place. gmg

So what record would you like us to settle in at even though the record books will show 9 wins? Just curious. Listening 👂 army was a heck of a win too not just southern miss. Waiting. 6-8 7-7? Waiting

I'm at USC vs osu right now. It's so easy to be a t-shirt fan. Glad to be Green🙂 GMG

Do you realize how good fau is? They are top 25 worthy I saw them in person. We are coming, but nowhere near fau. That doesn't mean we didn't have an awesome growing season. We are coming. I will Be there - since 1986. Go Mean Green!!!!!