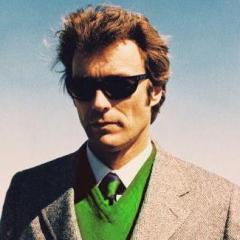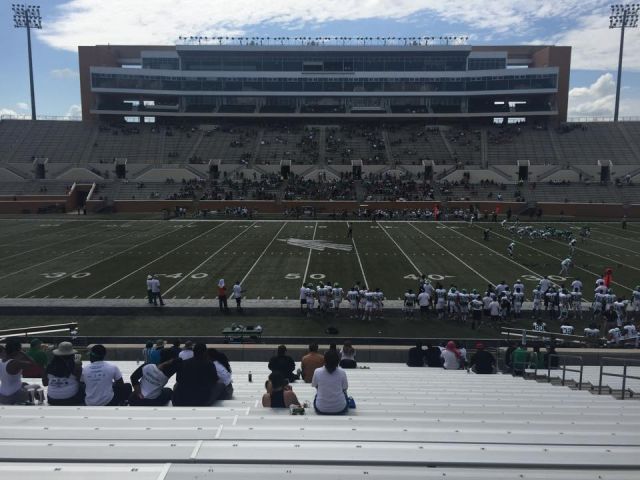 The 2015 version of UNTs Spring Game did not offer any major surprises. The chance for that set sail when it was announced talented junior college transfer quarterback DaMarcus Smith would not be eligible to participate in Spring Ball due to academics. There was however some interesting footnotes which are worth mentioning.
I will preface this by restating a recurrent theme of my close to 20-years of following UNT football. In the bigger scheme of things, the Spring game doesnt matter that much. Sure, it matters to the team and certainly the players who are vying for playing time at their respective positions. But its one day out of 20+, which is a small subset of the total evaluation. Too often, players who make the biggest impact in the game end up not returning in the Fall or drop back down the depth chart once a bevy of scholarship and preferred walk-ons enter the picture in late August [see Erick Evans last year who barely played on Saturday]. Junior college guys who just arrived are still learning the plays and the schemes. Injuries keep some of the better players off of the field [Tillman Johnson].
With that disclaimer out of the way, it is still exciting to be in beautiful Apogee stadium one last time before the dreaded UNT 5-month off hibernation period begins. The weather Saturday was nice, almost too nice as the 1st half of the game got pretty hot. I saw some older fans leave prior to 2nd quarter due to the heat. Cloud cover saved the day at around half time and by the second half things started cooling off and actually perfect game day weather as the sun set in the west.
The UNT Athletic Department gets beat up from time to time and I want to give them credit where it is due. The entire experience for my group on Saturday was extremely positive. This started with well-placed parking signs and directions. We ended up parking in the Victory lot and walked in through the Hill to the student side. I was pleasantly surprised to see the Greek sororities out in full force with signage and music. There was even some decent tailgating going on. The smell of my beloved Kettle Korn was in the air.
I cannot tell you how pleased I was to receive a nicely done, 1-page numerical roster as I entered the stadium. Of course, I had printed off one prior to leaving the house. But it didnt matter because the AD had provided me with a better one which was much appreciated. Concessions were plentiful and the Spirit shop was well staffed with ticket folks eager to assist in renewing or finalizing new season ticket holders. The Talons had Boomer going after every score and the halftime presentation honoring UNT Hall of Fame inductee George Dunham was a nice touch. Also a neat introduction by new play by play guy Dave Barnett who I think was a fantastic hire. It was one of the better days for the entire athletic department and they should be commended for it.
But back to the game itself. I will break this out by position.
QB
Andrew McNulty will be the starter when we face SMU in the home/away opener in Dallas and his performance did nothing to change that one way or the other. He clearly has the best grasp of this new hurry up offense that runs primarily from the shotgun snap. However, he is not the most talented QB we have and struggles in a very key aspect - throwing on the run. Mark my words, with so many new faces on the offensive line, whoever lines up under center better be prepared to throw on the run or it will be a disaster. Before you condemn me for being negative, McNulty's stats were 14 for 29. He did throw 3 TDs and had 342 yards but honestly a lot of that came from some broken coverages. He takes a long time to throw the damn ball but in his defense that was pretty much all of the QBs on this day. The key stat of the day for McNulty was 0 interceptions which alone may have assured him the guaranteed start against SMU.
I still maintain that Dajon Williams is the most talented QB we have and the Spring game just solidified it. Williams may not know the playbook as well as McNulty, but he certainly has a superior arm and can throw the ball on the run. He also provides a more dangerous read option threat as evidenced on a couple of his runs. Williams was 9 of 15 for 129 which paled in comparison to McNultys stats but he half the opportunities and against the #1 defense (McNulty got the #2s). I can't help but wish that we hadn't given up on Williams so quickly last year. He could have grown up so much more if he had been given time. But alas, the staff's will to win games was too strong.
Josh Greer seems to have righted the unfortunate performances at Texas and home against La. Tech last year. He seems more poised and in control of his game. He had some nice passes and also an ugly interception but he did enough for me to think he will figure into things for the Fall. Greer went 10 for 17 and had a TD. Greers problem is he really poses no threat to run the ball which will place him at a distinct disadvantage when compared to the other QBs. Greer took a lot of heat on the GMG board and I think he should be commended for turning around a pretty dire situation. He is back in the mix.
Connor Means showed nice things as a redshirt freshman going 6 of 15 for 94 yards. He didn't throw an INT which McCarney loves. His arm is pretty strong but his accuracy is still developing. He can run pretty well. Hes a keeper for sure, but with the rebuilding of Josh Greer's status, I just don't know if this year will be the year he plays.
On a quick side note, I have to mention another aspect of the new "hurry-up" offense employed by Coach Chico. Do you notice the QB clap of the hands just prior to the cadence? Sort of like a "get your shit together" signal? With tempo being such an important part of an offense and certainly QB play, I couldn't help but notice that some of the QB's had better timing on their clap than others. Some of the QB's have a louder clap and some seem to have a weaker clap. Personally, I think it would be kind of cool from a tempo standpoint if everyone did a clap in unison together but hey that's just me.
The rest of our many QBs was really just spot duty and I would say of the tandem of Cousins, Shanbour and Chumley that Shanbour had the best showing with a TD pass. Mac said after the game that they would likely redshirt Chumley and with 4 scholarship guys NOT including DaMarcus Smith I dont know that Cousins and Shanbour have much of a chance to earn a scholarship here. I think their best chance was if Greer decided to move on and I dont see him doing that as he was running as the second team QB. Five scholarship QBs is probably too many, but with DaMarcus Smiths status still up in the air it is probably the right thing to do.
Saturday was evidence that UNT is still dreadfully behind in their development of quality C-USA quarterbacks. In year 5 of the Mac regime there should be more depth and competition at this position. However, McNulty provides Mac with a safe option which he hopes will be bolstered by a strong running game and defense. Make no mistake, we REALLY need DaMarcus Smith to gain his eligibility and I am certain they will do everything possible to support that happening.
RB
I thought the player of the game and the entire spring was Willie Ivery. He led both teams in rushing with 70-yards and shows moves and bursts of speed that will be a lot of fun to watch in the coming years.
Ivery may provide the most razzle dazzle but sophomore Jeffery Wilson is the guy. He showed the ability to run inside and also outside and in my view has eclipsed senior Antoinne Jimmerson. Wilson gained 44 yards while Jimmerson only had 16 in the game. I think Jimmerson is in a quandary as he could be the power back but his history says that he likes to bump outside more than run in the trenches.
My dark horse is Rex Rollins if he can stay healthy. Rollins had a nifty run on the sidelines where he showed his speed. He is the fastest back we have and could potentially change some games.
As usual, running back is probably the deepest position on the team. I think the big question mark heading into this Fall will be who can be the short yardage guy after the one two punch of Wilson and Jimmerson. I see Ivery as sort of a Jamal Branch type of player who could be very productive in 3rd down situations.
TE
Not a lot to report here from the game itself. Marcus Smith (3 receptions for 47 yards) is a stud and if he can improve his blocking could be an NFL caliber guy. Chris Loving had probably the best game of the tight ends which is encouraging. He had 5 receptions for 103 yards and 2 touchdowns. Loving has great potential and if he lives up to it we could really have some nice options. I think they really need Wylie Rheinhart to step it up as a consistent blocker. Jarrod White Mamba Lynn played more of an H-back role and may fill in as the short yardage runner they need for the short downs.
WR
Wow I think we have really improved in this particular area. First off, Carlos Harris had the catch of the day on a play to the sidelines from Josh Greer. He will have a huge senior season if they get him the ball. The #2 guy appears to be Turner Smiley who had a huge day with 124 yards and 3 TDs. Add to that Kidsey, Goree and Rutherford and you have some firepower. I really liked what I saw from new face Daniel Khan who had 7 receptions for 72 yards in an impressive fashion. He is sort of a fireplug, undersized but plays big type of guy. The wildcard is juco transfer Thaddeus Thompson who like QB Damarcus Smith is regaining his eligibility and could not participate in the spring. If he shows and is as good as he look on film, UNT should have a much stronger receiver corps than in years past.
OL
There are a lot of new faces on this group and there were a lot of sacks in the game. Kaydon Kirby had some type of minor injury and exited the game quickly and they promptly moved juco transfer Brian Ochs in to replace him. I though Ochs played well. I thought RS Freshman Chris Miles looks the part at tackle but time will tell.
This is the hardest area of the team for me to gauge. I think we will be ok but losing guys like YBarbo and Johnson, who were starters on a bowl winner, is rough.
Personally, I think we are in good shape with Kirby, Banogu and Rice. The big question marks are putting a RS Frosh in Miles on the edge (ugh) and Micah Thompson at right guard. Creighton Barr and Avery Fortenberry look like gems. I think Brian Ochs will be the key as he could be a quality C-USA guard or center. Tackle is a BIG question mark though and there just isnt a lot of proven depth which will make QB mobility even more important.
Defense
I actually focused more on the offensive side of the ball but here are the players that impressed me and my general impressions on the defense:
This is a blue collar lunch pail type of defense with good speed. Thats the good news. Other than Kishawn McLain, I really didnt see the type of physical play that we have seen in years past. I think teams will try to run it down our throat again and Saturday didn't convince me otherwise. However, I do think we have improved our defensive line and secondary. Linebacker remains a big question mark, however I really do think juco transfer Courtney Finney is special and may turn out to be one of the better linebackers to play here. He is not real big, but extremely quick and is like a magnet to the ball. In fact I would like to go ahead and trademark Finney's new GMG nickname as "Magnet". Other than Finney, I see a lot of speed but not enough plays. The biggest hit of the game came from Kishawn McLain, a safety. We need our linebackers to deliver some punishment as well.
The defensive line seems to be solidified with the emergence of tackle Mustafa Haboul. Haboul was one of my favorite signings a couple of years back (he is a redshirt junior now). He embodies the lunch pail, blue collar description I used to describe this defense. Not tall, probably 6 foot if that, but strong as an oxe and pretty quick with his hands. Austin Orr is also undersized but as a senior should be decent if he can stay healthy. Backing him up is Sid Moore who made some terrific plays behind the line on Saturday. Moore could really shine this year. Zero Wallace played a lot last season and was not a stand out performer but one would think he could improve this year. I liked what I saw from freshman TJ Tauaalo in his snaps.
At defensive end you were missing your two starters who will be Tillman Johnson and Jareid Combs. But I think the emergence of former walk-on Andy Flusche is a nice boost to the overall depth. Malik Dilonga looked like he put on another 15 pounds of size. Overall, defensive end appears to be a fairly stable area of the defense with a lot of hopes being placed on the arrival of Combs. Again, this will not be an imposing defensive line but I think it could be quite capable if the offense can keep them off the field.
At defensive back the standout performers on Saturday were cornerback Kenny Buyers who nabbed an interceptions and safety Kishawn McClain who appears to be the biggest hitter of the group, laying out tight end Marcus Smith on one play and just showing up in a lot of plays overall. Of the transfers, I would say I saw James Grays number the most. They had him playing deep safety in a lot of the formations which tells me they trust his instincts and abilities. Cedric Fernandes is a walk-on who looks like the real deal. I also think they have Jamal Marshall at the right position. If he could have a good season he will definitely get some NFL looks as he has impressive size and speed for a corner. Chad Davis will not be James Jones but he should be solid enough.
Final Thoughts
After the bowl year, there was not a question of talent but more so leadership among the ranks. I must say, there really is not a lot of leadership emergence that I see out there right now. Of course after a 4 win season that may be expected. It struck me that this was one of the quieter teams I had ever seen at UNT. Every year you seem to have at least a guy who is vocal with the most recent being Marcus Trice. Perhaps this is just an after effect of the instability at QB. You also have the biggest group of juco participants since Mac has been here and they are still feeling their way. I hope that more leaders will emerge in two-a-days and positive personalities will develop in time. I saw the term vanilla on the GMG board and I think it is pretty accurate for where things stand right now. There is certainly talent, but chemistry is a question mark.
As I walked out of the game I actually was feeling pretty good about things, until I peered up at listing of the 2015 home schedule on the big screen yikes. Rice returns their stud QB, WKU has the MVP of C-USA at QB, UTEP beat us to death with their running game and UTSA.. well we all know how that team seems to have our number.
Despite my misgivings about what will be a treacherous schedule, I do think that Coach Mac has addressed some key need areas for this program with the exception of the most important one which is TBD. This strikes me as a team which could win more games than they lose IF a playmaker emerges at QB. I repeat, a playmaker, not a bus driver. So with that in mind, I implore all Mean Green fans across this great nation to keep DaMarcus Smith's eligibility in your prayers for the next five months.
GMG!