0
Terrell Brooks and his impact on the 2012 Class
Posted by Harry , 02 February 2012 · 1,937 views
If you follow this recruiting stuff closely you may recall a signee that North Texas beat out SMU and some other good programs on last year - in the class of 2011 - a kid by the name of Terrell Brooks. At 6-4, 305 "kid" may not be the appropriate description.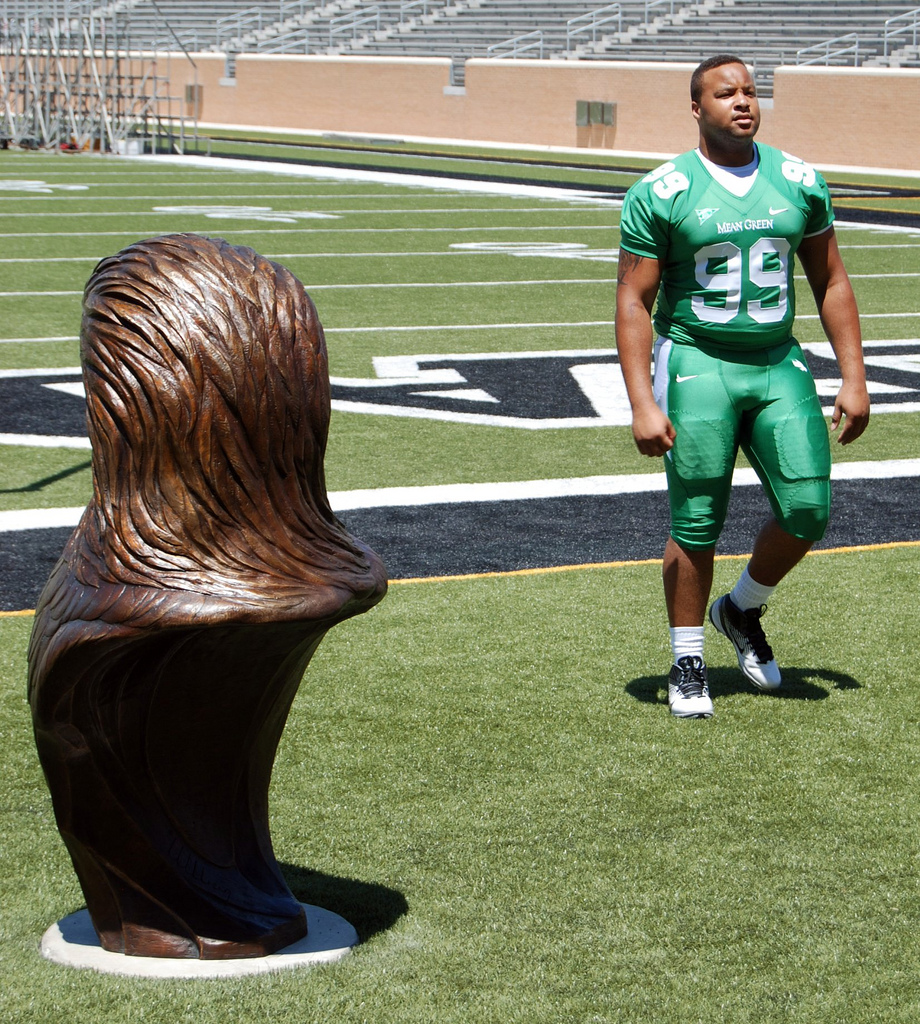 When two-a-days started in the newly finished Apogee stadium I remember taking a snapshot of Brooks as he approached the new Eagle statue in the south endzone. Wow, what a physical specimen and at a need position. This guy was the prototypical defensive tackle, and he was a true freshman with 4-years to develop and hone his skills.
Well we all know the end of Brook's story at North Texas and it wasn't pretty. After playing a few plays in a monsoon and quite forgettable blowout loss road opener against Florida International, Brooks shocked the Mean Green nation and most certainly Dan McCarney by hanging up his cleats. We never really got the final word on why, other than Brooks had lost his desire to play D-I football. The dreams of seeing him stuff up the middle of the line for years to come vanished and left UNT's coaching staff scrambling for replacements amongst an already thin depth chart.
We may never know what really happened with Brooks but we do know this, he didn't transfer to another school and more importantly - if you are a North Texas fan - a critical scholarship spot was lost as Brooks will most likely never played another down of football for the Mean Green.
All of a sudden, the questions as to why a big strong prospect like Brooks fell into our lap became a little more clear. Is it all about size and speed and stars?
Fast forward to this 2012 signing class and we signed several players who did not have a lot of D-I offers. Reason for this is usually they are a few inches short or a 20-30 pounds lighter than you would like to see. Please understand, I realize that in a perfect world you would have 20 linemen who all stood 6-6, weighed 300 pounds and ran a 4.6 40. The problem is linemen with these attributes are as scarce as hen's teeth.
I think when it came down to it, Coach Mac measured results, heart and desire more this time around. The experience with Brooks probably reinforced it. Mac has stated many times that one of his favorite players on this team is sophomore Ryan Boutwell, an undersized defensive tackle listed on the roster at 6-3, 261. Boutwell looked a little out of place lining up against the mammoth offensive linemen of the Crimson Tide last season, but he still managed to be productive and have one of his best games. Boutwell has the spirit of a champion and a determined will to succeed no matter what.
With the outstanding weight program Coach Frank Wentrich brings, it's not out of the realm of possibility that Boutwell ends up closer to 275 or 280 before all is said and done. I think most would agree that his next two years could be pretty special. I think several of the 2012 North Texas signees fit the mold of Boutwell. Evan Cardwell was a former player who was undersized and developed into a very nice defensive tackle at North Texas. Chris McIver from San Antonio comes to mind as well. Guys that were here for 4-5 years. Dedicated guys who were leaders both on the field and in the weight room. Guys that didn't take plays off and motivated their teammates through example. There hasn't been enough of those players in the last 6 years.
None of these players had a ton of offers coming out of high school but they did share in one common trait...desire. The dedication to succeed, to improve -- to get better. Desire to win and make plays. This didn't happen right away for them. They had to work hard in the weight room and on the practice field. They had to rely on their dedication more than probably a 4-star recruit would.
In fact, one might argue that strength, weight and speed are correctable factors to a certain extent. Weight training, diet, speed training have all improved with technology and time. trying to make a player who is gifted with physical tools become passionate about a sport is much more difficult.
The pundits are saying North Texas took a gamble by signing some players who didn't necessarily meet the "D-I" size criteria or didn't have as much interest from other schools. I see it differently. North Texas signed some blue collar, lunch pail guys that were tremendously productive at very high levels of competition in Texas high school football. If you doubt that just watch their film...talk to their coaches and teammates. North Texas took some players this year who possess a 4-star level passion and desire to succeed in this game.