Welcome to GoMeanGreen.com Forum
Welcome to GoMeanGreen.com Forum, home of University of North Texas students, alumni and fans.  Like most online communities you must register to view or post in our community, but don't worry this is a simple free process that requires minimal information for you to signup. Be a part of the GoMeanGreen.com family by signing in or creating an account.
Start new topics and reply to others
Subscribe to topics and forums to get automatic updates
Get your own profile and make new friends
Get access to the chat room, member map, arcade, photo gallery and much, much more!
Customize your experience here
Access premium content and features only available to registered members
Registration is simple and easy as we allow use of valid Google, Facebook and Twitter accounts:  Click here to register
Thanks for visiting and as always -- GO MEAN GREEN!
0
UNT's 4th yr. mistake still lingers
Oct 29 2012 11:10 AM | Harry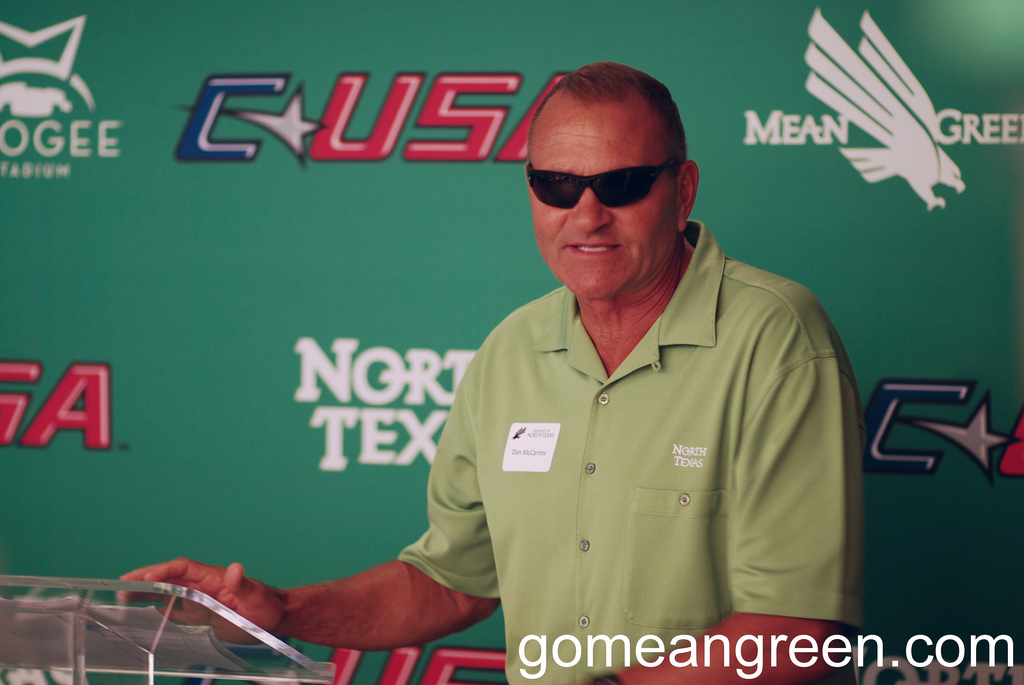 Let me preface this by saying I have nothing but respect for Todd Dodge and the way he handled the situation he was in at UNT. Unlike Dickey - he left his post with class and dignity. I think we all wish him and his family well at Marble Falls.
The problem is he should have left a year earlier than he did; and I believe had we been able to make that change we would be a much stronger program now - and we wouldn't be leaving the Sun Belt in the manner as it appears that we may this season.
Dodge's record in his first three UNT seasons (2007-10) was 2-10, 1-11, 2-10... Dodge was dismissed in October of 2010 (his 4th season) after going 1-6.
Everyone, including Todd Dodge knew that after year three things were likely not going to turn around. I think Dodge was surprised that UNT granted him the fourth year rather than just pay out his 5-year guaranteed contract and move on. But, either one or some combination of Dr. Bataille and or The Board of Regents chose not to do this, and I don't know if we will ever know exactly why.
Some cite that giving Dodge an additional year would help them put together a more respectable package for the new coach, and allow for a significant increase in assistant salaries which were woefully light. Whatever you think the reason was, one thing is clear. A college football coach cannot recruit quality high school athletes when they know his contract term is not going to be renewed. 7 years of osing football hurts recruiting without a doubt but when parents know a coach will likely not be there for their son's 4-5 university experience they most often will take a pass. After two consecutive losing seasons Dodge was in a hole and he knew that time was not on his side. Especially with UNT's biggest capital expenditure ever - a new stadium - on the horizon.
So Dodge did what any other coach would do in that situation, he sold out juco. Unfortunately when he rolled the dice it was UNT's chips on the craps table. Dodge thought if he didn't win in 2009 (year 3) he would be gone...so in his 2009 signing class out of 21 he signed 8, again almost half of the entire class. Then, likely surprised that he was being given a pass for year 4 out of 22 signees 10 were jucos, again almost 50% of the entire class.
This is - in my opinion - the MAIN reason we are struggling as a program right now. As Tasty and others point out, it's certainly not the ONLY reason.
Read more:
http://www.gomeangre...-still-lingers/
Popular Images
Article: UNT's 4th yr. mistake still lingers